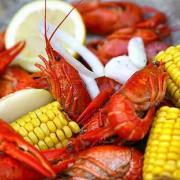 As the Swedish summer draws to a close, you may be lucky enough to experience warm, clear August nights that are almost Mediterranean in character. That's when Swedes have their crayfish parties.
A crayfish party is a traditional summertime eating and drinking celebration in the Nordic countries. The tradition originated in Sweden, where a crayfish party is called a kräftskiva.
Crayfish parties are generally held during August, a tradition that started because crayfish harvesting in Sweden was, for most of the 20th century, legally limited to late summer. Dining is traditionally outdoors and customary party accessories are comical paper hats, paper tablecloths, paper lanterns (often portraying the Man in the Moon), and bibs. A rowdy atmosphere prevails amid noisy eating and traditional drinking songs. The alcohol consumption is often high, especially when compared to the amount of food actually eaten (crayfish shelling is tedious work). People mostly drink beer and akvavit which is a traditional flavored spirit that gets its distinctive flavor from spices and herbs.
The Swedish-American Chamber of Commerce in Austin has made it a tradition to celebrate this Swedish feast every year and this year they are hosting it together with EuroCircle.
written by Rasmus Wendt