EuroCircle Summer Cocktails @ Aloft Lobby Bar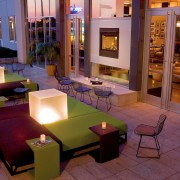 Please join us for our June Get-together on Wednesday (June 4th) at the brand new ALOFT Hotel located in downtown Atlanta at 300 Spring Street NW, which is walking distance from the Olympic Park.
The ALOFT Hotel just opened up earlier this month and is a 'sister property' of the W Hotels.
Parking will be validated at the bar so please drive around the back of the hotel where parking is plentiful.
We will have free cheese and fruit plates offered by the hotel but please note they DO NOT offer a food menu so you may want to make dinner arrangements elsewhere prior or after the event.
We will meet in the lobby bar and also have access to the outside patio area (weather permitting).
Please remember to RSVP and we look forward to seeing everyone next Wednesday.
Salutations,
Atlanta Eurocircle