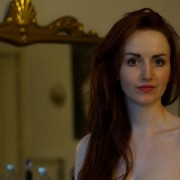 I "met" Sharon online and found her fascinating – of course I just had to interview her. I loved how much I learned about Rome – thanks for being so thoughtful and really think what I asked about.
Sharon Moran, you are originally from Ireland, right? When did you move to Rome and why??
Yes, I'm Dublin born and bred. There were a few things that got me where I am now. I had worked in London for a few years as a professional singer with Universal Record Company, then toured Ireland singing 1940's Jazz. Around that time I witnessed a dramatic thunderstorm in the hills of Tuscany while at a wedding which awakened Italy in my imagination. After that I became an Italo-phile and spent all my holidays there and became interested in the language. I decided to study and thought I'd learn Italian since I was hoping to own a home there later in life. It happened much quicker than anticipated! I did an Erasmus year as a mature student of 27 three years ago, and then found great writing and performing opportunities in Rome. So I decided to quit everything at home and go it alone in Italy. I never thought arriving in Italy a clueless student that I would end up making it my home. I left a long-term relationship and a house in Ireland. It was scary but I'm proud of trying to follow my heart. Especially since it led me to the deepest love of my life with my Roman man Frankie (Francesco) and job satisfaction.
What do you enjoy most about Rome, now when you have more experience, how's the quality of life compared to Ireland or where ever you moved from?
I still need to get used to some things like the fact that I can bank on having a good summer, every summer in Rome. My quality of life is better in that I am more active socially and more confident. I enjoy the details that are normal to Italians but will always be appealing to me for not having grown up here. A morning cappuccino in the social hub of a Roman bar, trying a new local dish, a great concert at a wine festival, it's all wonderfully alien to me. The beach life is fantastic in Rome, when all the locals head out to the sea at the weekends and enjoy good food and time with friends. I eat much healthier here as there is less emphasis on the takeaway/fast food culture and the weather cries out for fresh, simple food. The nightlife for those who love to dance and experiencing unique culture is definitely above Dublin in my opinion. I mostly enjoy the all-rounder effect of having found passionate love, a career worth smiling about and a new home from my childhood dreams.
Usually there are some negatives, what are the ones for Rome that really stand out for you personally? What do you miss most about "home" what ever that means to you?
Now I'm here a few years I feel more justified in complaining about some of the daily grinds in Rome! It's chaotic. Traffic and beeping horns creep into your dreams at night when you live here. The metro system has two small lines that only intersect once, so planning a specific time to get somewhere if you're taking public transport can be a mess. This disorganization bleeds into administration too; post, bills etc. You name it Italians are slow at it! This can make a lot of expats turn on their heels after a while and head home in search of 'civilization' again. The best thing is to plan things ahead of time and take it easy when things don't work.
At times I miss the diversity and the modernity of Dublin. Also I miss the smaller size of my home city, where you can find a hash of live concerts on the same street on a Saturday night. My life is also tinged with a little sadness that I can't have my family here for the ups and downs of life. But they are close to me in spirit at least (and when I nab them for Skype).
Did you feel Rome is a good place for you as an employee/entrepreneur right now? Are there any areas expats like you might like in Italy better ? (entrepreneurs? WHY?)
I've set out a career specifically tailored to Rome so for me it's the best place to be right now. In the beginning it was trial and error. I started off like many others with odd jobs and English teaching. The level of fluent English is quite low in Rome and I've used that along with my Italian, knowledge about music, events and the expat lifestyle to carve out a niche for myself. Once I had a good base working as a museum guide in the beautiful Keats and Shelley English literature museum on the Spanish Steps, I set up my own website on the real Rome I had come to know www.undergroundinsider.com. Through the website I began a freelance writing career for English magazines and websites in Rome and I'm now in talks to become a travel correspondent for Italy. It's such a treat to write about what inspires me in Rome.
I also used my experience as a vocalist. I started singing in a popular vintage Jazz club and then joined the band Etruskajazz www.facebook.com/etruskajazz, a lively mix of Jazz and Ska music. I then founded a duet with my lovely Roman Frankie (who is a bassist) called Two Man Big Band, (www.facebook.com/twomanbigband) through which I perform in some of the trendiest spots in town. It's important to find what you're good at and get even better.
Regarding other areas to start a career in Italy, I have heard many times that the north of the country is much more organized and business driven with a more European outlook than Rome. Places such as Milan and Turin might be a good option to try career-wise, but be aware that what you get in functionality in Italy you often loose in warmth and laid-back mentality of the people.
What are the best places/suburbs to live in Rome in your opinion?
This is a great question and one that many Rome newbies would like to know the answer to. It depends on your budget and what you're looking for. If you plan a short stay or have a good budget by all means go for the picturesque Trastevere and wander the quaint (but touristy) cobbled streets every day. Those watching their budget go to the suburbs and pick a place close to the metro in Rome. From my experience the suburb of San Paolo is a good option, south of the city on a metro stop near to the recently trendy Via Ostiense with Roma Tre University and Testaccio which are areas full of bars and restaurants. It's comfortable and not touristy with lots of expats, but then it's not very pretty. San Giovanni is slightly better in my view, flanked by the ancient Roman city walls and a short walk from the Colosseum. The tree lined ancient walkway of Via Appia Antica is just around the corner. There is also a metro stop that brings you into the center, a great vintage warehouse and a huge outdoor club in the summer nearby. A friend of mine lives at Piazza Bologna, a popular area for student types as its right at a metro, with lots of buses, close-ish to the center with many shops, a few good bars and lively piazza life at night. Cool underground areas like San Lorenzo and Pigneto are great for experiencing real Roman nightlife and you'll get a good deal rent wise but getting around for work and social life is difficult as there's no metro nearby.
Do you go out a lot – hobbies? Or is everything about work right now?
Work is intertwined into my hobbies now. I write about my life trying new things and performing at trendy venues in Rome. As there's always something to do in the city I try to get to new exhibitions, restaurants, film nights, concerts and clubs regularly. I'm a big fan of checking out the 'occupied' social centers in Rome; disused theatres, venues and warehouses taken over by caring, anti-commercialist young people who renovate and host the most eclectic event calendars in Rome. Because I do a lot of different things I do have to watch that I don't loose touch too much with friends while I'm running about. I'm busy but happy. My new exciting hobby is our Italian country home, which needs a lot of loving care to get it into working order. Having lived in the city for quite a while I've now moved out to the rolling olive tree countryside just north of the city to experience Italian country life. Frankie and I are renovating a little abandoned villa with lush grounds built by his great-grandfather beside the hilltop town of Palombara Sabina near Tivoli. Still working and performing in the city, I love the contrasts of life that I get to experience in Italy. Activities include olive harvesting for olive oil, fruit picking, designing vegetable gardens, fencing for animals and so much more. I literally squealed with joy when I managed to get the massive wood burning pizza oven going. We also plan on including a yoga/artist studio as I have also been selling my paintings for a few years now. There is a lot of potential. But the most important thing is the enjoyment we get out of this little corner of paradise and sharing it with friends.
What's the cost of living compared to Ireland or other places? What is cheap or expensive in particular?
On the surface everything seems far cheaper in Italy than in Ireland. €2 for a bottle of wine? Yes, please! But everything else apart from groceries often costs the earth in Rome. From the prices that the Italian shops charge you'd think towels and sheets were a precious commodity. Toiletries cost twice, sometime triple what I pay in Dublin and there is not much choice. There are not many do-it-all stores that offer you toiletries and make-up products for competitive prices like in Ireland. Lots of foreigners turn to online shopping while living in Italy, for those who dare to trust the Italian post service, or they buy things when they visit home. For people who would like a more modern living approach such as using natural products, eco-shops are scarce with even higher prices (human footprint awareness and recycling is a new concept in Rome). But again it's doing your own research that makes the difference. Go to the big shopping centers on the outskirts of the city for more choice for clothing. Lots of people including Italians head to Ikea for affordable household goods. I worry for Italian brands in this way for the future. For example the Chinese population in Rome saw that there was a gap in the market for cheap knick knacks and household supplies so there is now a shop on every corner in the suburbs which have pushed a lot of more expensive Italian businesses out. Italian products are good quality, you'll just have to pay more. Rent is just as expensive as Dublin so though it's high in Rome, I'm used to it.
What are the Romans like compared to for example people in your last residence – do you notice any difference?
Living with a passionate Roman man I've been able to get an inside look at Romans, their families and relationships with friends. There is a definite unique set of characteristics. They are a warm, social bunch and usually make friends early and keep them for life. They are loud and laid-back, honest and confident. Romans check themselves out in shop windows, push on the metro and cut people off on the road. They are fiery but it passes to joviality as quickly as it comes. Their overall outlook makes the Irish seem quite repressed at times with all of our politeness and manners. Irish men often won't approach women they don't know while the opposite is famously true for Italian men. Another thing that struck me is that Italians are masters of moderation. A little wine here, a small croissant there and never too much, which is very unlike the Irish. Italians are also still very traditional and superstitious; never pour your wine with your wrist pointed up, never have cheese with seafood pasta etc. The beauty of Rome is not wasted on the locals. They will trawl the riverside looking for parking after dinner and join the throngs in Trastevere to take a stroll, enjoy the warm air and touch base with friends.
Did you think it is easy meeting people and making friends in Rome?
Yes and no. I surrounded myself at first with amazing student friends who I still keep in touch with. But later returning to Rome to do it alone and not knowing anyone, I had times of uncertainty. My Italian wasn't up to scratch for Italian friendships in the beginning. Also most foreigners are only here for a couple of months so I made lots of friends only to start again when they left. I used to joke that I've asked more girls out than the average Italian male! But I'm lucky there are lots of chances to meet people in a big city. Unfortunately most Italian guys you meet will usually want to ask you out instead of being friends if you're a foreign girl. But I decided to go with the flow, stop focusing on it and let it happen naturally. A lot of life is letting go. As soon as I did, I found some people who are living here longer term. I also get along with the band I'm in who are all Roman and a bunch of sweethearts. After lots of practice with Frankie my Italian has improved and has really helped getting to know people and also finding more work.
What are your favorite restaurants/bars there in Rome (WHY) – and socially/workwise – what kind of networks do you attend to connect with people for business/personal life?
There seems to be a contemporary cultural awakening in Rome, so there are always new places springing up. Take the area of Monti for example. It's now the bohemian shabby chic mecca of Rome, the new place to be for locals and expats who are in the know. Life is cyclical though so I'd get there soon before it becomes overcrowded by the tourist trail. Monti is the best place to be for a few drinks and some vintage shopping, a stone's throw from the Colosseum. For a novel meal, Aperitivo (a buffet-style meal that includes your drink) has blown up in Rome. It's a great cheap dinner option as it's all you can eat, and in trendy surroundings. Great options are Doppio Zero on Via Ostiense or MoMart near Piazza Bologna, which offer a huge selection of pasta, pizza, rice, veggies and sweets from around 7pm-9pm. For traditional down to earth Roman cooking I go to Li Scalini de Marisa, in the foody Garbatella area that locals love. I usually order the strange-sounding but surprisingly delicious tripe in tomato sauce.
Socially if you want to get in with Italians it's a great idea to take Italian classes. Only one or two in every group of Italians will have good English. Picking a nice Italian roommate can open up that avenue of social life for you, or going along to the many language exchange clubs in the city. Other expats are available through lots of Facebook pages full of lovely visitors looking to meet up and do fun things in the city. Taking a course/class can also be a great way to meet others like you. I didn't want to fall in with the comfortable option of the Irish societies hanging out in Irish bars in Rome. I've gotten to know people through work, my concerts, culture clubs and expat events. Give yourself time, if I can do it anyone can! Overall being active has been my best policy socially.
What's the economic climate like in Rome, how would you compare it to Ireland? Why?
Ireland seems years ahead of Rome in some things, which would surprise a lot of my Irish friends. Romans still laugh at you if you put your seatbelt on in the back of the car! Economy-wise Rome is where Ireland was a good few years ago; calls for cuts on salaries for government and banking officials, new budgets and elections etc. Ireland has crawled out of their EU loan situation and is now doing better. But economic downturns always spur a city to invent creative ways to survive and grow, using the past as inspiration such as vintage shops and shabby-chic venues. As in Dublin, now in Rome new independent small businesses and venues with a nod to nostalgia are setting up shop.
Is there any advice you would like to offer new expats/entrepreneurs arriving in Rome?
Give yourself at least 3 months to get settled. I've seen people fall prey to the two-month itch countless times where nothing seems to work, they don't like their job or they can't find a room so they quickly return home again. Think outside the box in Rome, approach places and people for yourself. Don't knock yourself when it doesn't happen the first few tries. We've all been there. You'll be proud of making your way in a complex and bustling city. For the females, get used to a little bit of chauvinism when it comes to business. Twice I've had a meeting with a new manager turn into a surprise date. Foreign girls are seen as helpless at times, in need of a personal guide. Just ignore it, they are persistent but still polite.
Anything else you would like to share with us?? Choose freely.
Rome is experiencing a split personality between its weighty history and its modernity, which makes it an interesting place to be right now. The city is packed. If you look at photos of Rome from the 1960's the only difference now is every nook and cranny is stuffed with cars. Because the transport is unreliable Rome is a walking city for those without a car. An English poet gave me a copy of a comic poem all about the hazards of wearing the wrong shoes in Rome. Forget heels or stylish formal shoes, Rome's cracked and cobbled streets will literally eat them. Another thing to be aware of, most foreign people working here are English teachers or nannies and 90% of those people don't stay on for long, so try to find your own niche if you want to make a go of it here.
Connect with Sharon Moran:
Sharon at Facebook
www.undergroundinsider.com
https://www.eurocircle.com/euro/wp-content/uploads/stories/2014/05/Stories-Sharon-moran.jpg
419
628
christophe
http://www.eurocircle.com/euro/wp-content/uploads/2014/06/eclogow1.png
christophe
2014-05-05 22:15:12
2022-01-10 21:41:47
Rome – Sharon Moran, An Irish UnderGroundInsider in The Eternal City, Rome