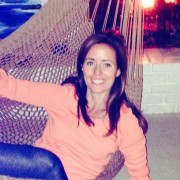 Would you please tell us a short story about yourself, who you are, where are you from, where you live now, what do you do and so on>?
My name is Britt Hansson, I was born and raised in Brazil and have dual citizenship (Brazilian/Swedish) because my father was Swedish. I currently live in St. Petersburg Florida and I work for Tech Data Corporation which is a broad line distributor of IT products. I'm I the position of Senior Marketing Account Executive for IBM.
How did you end up in Tampa – when we were in touch with you last time you were part of EuroCircle team in Stockholm (currently no team) and looking for work in Sweden?
I moved from Sao Paulo, Brazil to St. Petersburg Florida in 1988 to attend college. I ended up living in St. Petersburg for 13 years. After graduating from Eckerd College with a degree in Marketing Management I started working at Tech Data Corporation supporting the marketing initiatives for the Latin America department. After 5 years in the position I decided to move to Stockholm and was hired by Tech Data in Sweden to support their marketing initiatives. I worked at Tech Data Sweden for 3 years. In 2004 I left Tech Data and was hired by an English company called marcus evans which is a global multi-faceted media company, corporate marketing and information company. I managed two sales teams in both Stockholm and Cape Town. In 2008 I left marcus evans and started working for a Swedish magazine supporting women in business. In 2011 I was offered the opportunity to return to Tech Data in Clearwater Florida where I have been since.
What do you enjoy most about Tampa, now when you have more experience, how's the quality of life compared to Brazil, Sweden or other countries you may have lived in?
I love the weather and the more comfortable and peaceful pace of life that Florida has to offer. After having experienced the chaotic city of Sao Paulo for 18 years and the very cold and long winters of Stockholm for 10 years I was happy to be back.
Usually there are some negatives, what are the ones for Tampa that really stand out for you personally? What do you miss most about home – what is your home in your heart?
honestly don't know where I call home anymore. I have moved so much in my life and have experienced both positive and negative aspects in all 3 cities/countries. I think that what I miss most from Sweden and Brazil is closeness to family. I have no family in Florida and when the Holidays come around it's a bit challenging. I have very good friends in Florida though so I am not totally alone.
Do you feel Tampa is a good place for you as an employee/entrepreneur/freelance right now? Are there any areas expats like you might like in the USA better than in Europe or Brazil in your opinion (entrepreneurs etc) WHY?
For the moment my employment opportunity is reasonable in the US. Cost of living is lower in the Tampa Bay area compared to Sweden and Brazil so the salary I earn offers me a better quality of life.
What are the best places/suburbs to live in Tampa in your opinion?
St. Petersburg Florida! I often say that I live in a bubble. St. Pete (as we call it) is a pleasant city offering beautiful beaches and cozy downtown/city life. People are extremely friendly and we are attracting a lot more yuppies from up north.
Do you go out a lot – hobbies? Or is everything about work right now?
I'm actually considering a new hobby. I love water sports and want to start sailing classes at my college campus since I can use the water front facilities.
What's the cost of living compared to Brazil/Sweden? What is cheap or expensive in particular?
I think everything is a little cheaper in Florida compared to Sweden and Brazil. If anymore is looking for real estate investments this is the time to buy in Florida!
What are the locals like compared to for example people in Brazil or any other country you have lived in – do you notice any difference?
Floridians are a lot more open to making new friends compared to Stockholm. Brazilians in general are friendly but I don't know how I would adapt again since I left Brazil 25 years ago.
Did you think it is easy meeting people and making friends in Tampa?? It seems like a city that would not have a huge lively European style downtown where you can access all by foot??
am lucky in that sense because I kept in touch with several special friends that I have now reconnected to. However, I have also made many new friends as well. I don't have trouble making friends though……it's just part of who I am.
What's the economic climate like in Tampa, how would you compare it to Sweden etc? Why?
The economic climate is finally improving after the financial crisis of 2008. Homes are now selling again and jobs more readily available.
Do you think your career (business) would be the same in Brazil – or does this work better for you? Either way, please explain more.
I often think about this and quite honestly I don't know if my career would have been better in Brazil over the US. I feel that the US has offered me more opportunity overall compared to both Brazil and Sweden.
What are your favorite restaurants/bars here in Tampa (WHY) – and socially/workwise – what kind of networks do you attend to connect with people for business/personal life?
For restaurants: in St Petersburg Mesa Cantina, in Tampa Berns steakhouse. For bars both in Tampa and St. Pete is Ceviches
Connect with Britt Hansson:
Britt at Facebook
Email Britt