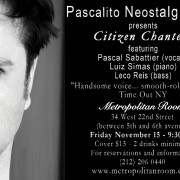 Mediterranean by heart. Parisian by birth. New Yorker by choice. Latin by soul.
Pascal, please introduce yourself so the readers get to know a bit more about you?
My name is Pascal Sabattier, I was born and raised in Paris, France. I grew up on the East side of Paris where my parents run a flower shop. I studied English and Economics at Sorbonne University, and then I got a MBA from ISC Paris. I relocated to New York in 1998. I came here initially transferred from Europe with an American company that is no longer around: Lehman Brothers. The rest as you know is history…
I presently live in the Upper West Side. I am a lead consultant / business risk analyst by day and a pop-jazz vocalist and songwriter by night. As for my stage moniker "Pascalito", it is both a reference to my Mediterranean roots, my family is originally from North Africa and Turkey, and to my Latin musical influences.
When and why did you start playing/singing – and which instruments do you play?
I was a dancer first. I studied modern jazz and flamenco in my teens. I play a little bit of piano but my main instrument is the voice. I am a trained vocalist and started singing in my early twenties.
What was the first tune(s) you learned?
One of the first songs I learned was "Les Feuilles Mortes" it is a French poem by Jacques Prevert that was transposed into music by Hungarian pianist Joesph Kosma in the late 40's, the song was later adapted in English and became the American jazz standard "Autumn Leaves".
Is your family musical? Describe your family member's musical interests and abilities.
Yes very musical. My grandfather was a Sephardic cantor in North Africa, my grand mother played the violin by ear. My mother is a jazz singer with a beautiful voice and my uncle was well respected singer songwriter of the Paris tango musette scene who produced several albums. I did not receive a very formal musical training but I really grew up surrounded by musicians and singers. I like to define myself as musically not-so-educated but musically cultured and nurtured.
Which famous musicians do you admire? Why?
I have an admiration for Brazilian singer and composer Caetano Veloso who created a post bossa nova movement coined as "tropicalismo", he is a very versatile and daring artist while being always pleasant to listen to. As for my French models, Henri Salvador, Claude Nougaro and Michel Legrand to me were pioneers in merging French chanson with North American jazz and South American influences. Among American jazz artists, vocalist / trumpet player Chet Baker has always been my favorite for his smooth cool sound.
What are your fondest musical memories? In your house? In your neighborhood or town?
There was always music in the house when I grew up. Sunday family lunches used to be an occasion to all sing together. Also my aforementioned uncle used to perform with his band at ballrooms. Seeing couples dancing to his music and expressive voice set an example for me of what "quality social music" could be.
Were you influenced by old records & tapes? Which ones?
I grew up listening to old records ranging from jazz (Nat King Cole, Sinatra, Count Basie), classical chanson francaise (Piaf, Aznavour, Brel…) to Mediterranean folk.
Could you please describe your own musical ambitions?
I already had a few TV placements for my original works but I would love to have my music featured in a film by famous artsy directors such as Almodovar, Woody Allen, and Francois Ozon.
As a performer, I would love to play at the Montreal Jazz Festival and at some targeted intimate jazz clubs. I would also like to write songs for other more established singers.
Where do you perform in public? Describe those occasions? Concerts, radio, TV?
My second released album "Neostalgia" has gained extensive national and international radio airplay in the jazz and world music scene.
As for TV, my songs have been licensed and featured in the popular cable network series Burn Notice (USA), NCIS Los Angeles (CBS) and Damages (FX).
As for live gigs, I have performed at a few well-reputed venues in New York City such as Le Poisson Rouge, Kitano, Metropolitan Room and French Alliance.
How do you balance your music with other obligations – mate, children, job?
It is an interesting question. I have been recently facing the challenge of balancing my life between my corporate day job constraints and my musical aspirations.
As I have evolved to a more professional musical level, I came to realize that the marketing of music for example is very consuming and requires solid logistics. I am at a transition point where I need to find alternatives and support to allocate more time and disposition to the creative side while not losing touch with practical realities.
I think you told me once that you spend time every year in France? Are you still doing that? I always wonder how it works for you – having spent most of adult your life in the USA – feel about your own country. That might be hard, right?? I guess I am asking also would you prefer staying here in the USA no matter what?
I used to go back to France at least three times a year as my mother lives in Paris but I have not returned enough in the past two years. I was naturalized a US citizen last year, which gives me the option to always come back here if I was to "repatriate" to France. I cannot tell you if I see myself staying here for the rest of my life. As much as I love New York and its infectious energy, I am bit in my "post American dream" phase where I came to realize that in comparison Europe offers an enjoyable haven in terms of quality of life and family work balance.
Could you share with us how you first found out about EuroCircle? How long have you been a member?
I have been a member since 1999, so prior century. A French acquaintance of mine took me to an event. My first impression was that the music was better and people dressed with more style than in most New York parties. But what really won me over was the international flavor and the breath and depth of subjects you could discuss among members. Your network has always been supportive and offered me my first opportunities to perform in New York. Thanks to one of your past benefit events 7 years ago, I also had the chance to meet a very talented fellow Swiss member, Thomas Foyer, with whom I ended up recording and producing two albums.
Do you have any upcoming concerts? If so, can you tell us more about them
Yes this coming Friday at the Metropolitan Room, a quality jazz cabaret venue. I will be accompanied by two world class Brazilian musicians, bassist Leco Reis and pianist Luiz Simas. The performance will be filmed and recorded like a live DVD. I will be presenting new material.
Artist profile and discography review published in the prestigious publication Jazz Times Magazine:jazztimes.com/articles/26554-pascalito-manhattan-s-french-connection
Facebook:https://www.facebook.com/pages/Pascalito/20796901568
Website: www.pascalito.com
I have a new video freshly posted on Youtube of an original song I co-wrote with another long time member Thomas Foyer.
http://www.youtube.com/watch?v=54ugNpzUtXk
Contact me at: info@pascalito.com or pascal.sabattier@gmail.com