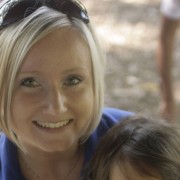 I wanted to feature Constance from Germany – she is a single mom which itself represents more challenges. I also don't know Atlanta at all as a city. By the way, the members in Atlanta should suggest EuroCircle who should be interviewed or let us know if we can interview you. All different countries in Europe is a lot of diversity. You can always reach me at kaisa (at) eurocircle.com
Please introduce yourself so the readers know who you are? Where are you originally from and where are you living now? When did you move here and from where? Did you move with a spouse/children
My name is Constance Beer and I'm from Gera, Germany. I grew up on the former east side in Germany and moved to Washington, DC in 1998. I spent that year in Maryland as an Au Pair and moved back to the USA for good in 1999. I had to stay in Germany for 2 months to get my papers.
Now I'm living in Atlanta, and I moved down here in 2006. I moved to the US by myself about 16 years ago.
Why did you move; what do you do for work/study/unemployed?
I moved to the US because I wanted to be fluent in English ( I was only fluent in Russian) and I wanted to get far away from home and discover myself. I finished High School and College in Germany. I'm a registered and certified oral and maxillofacial Assistant and I work in the ER as well.
What do you enjoy most about Atlanta, how's the quality of life?
I enjoy living in Atlanta because it is a very big city and it is very diverse. It took some time to adjust but I love living here after all. I enjoy going out and dancing salsa and hip hop or enjoy all the different restaurants, lounges and cultures and people. I love my job and live in a beautiful place with my 5 year old daughter, who is attending a very good public school. I'm a single mom and it is very hard but I'm very happy.
I truly enjoy the parks and social scene in Atlanta and made some good friends over the years.
The weather is beautiful here compare to Germany even when it's bad.
What are the negatives for you personally – all places have some? What do you miss most about home (or where you moved from)?
I always miss my family of course and some good home cooked German meals- even though I cook very delicious meals at my place a lot. We have some good German bakeries and restaurants down here but its still not the same.
I think I miss the true German/European honesty at times – and quark and bread.
Still I have been here for a while so that I'm not really aware of what I miss anymore.
For some time I thought people were superficial, but I believe those people exist everywhere in this world.
Is the city of Atlanta safe? Are there any areas expats should avoid?
I believe the city is very safe, there are almost no areas I would avoid-honestly.
How would you rate the public transport? What are the different options? Do you need to own a car?
I own a car and I think it is the best way to get around plus I have to be very flexible and mobile.
If one lives more downtown/midtown in the city, you can take the Marta and buses and it is very easy to get around. But still the public transportation is not as awesome as it is in other big US cities like NYC or in Germany.
Which are the best places/suburbs to live in the city as an expat in your opinion?
I'm not sure where the best places are to live. I love where I live, in Old Vinings/Smyrna.
I would make the best out of it wherever I live.
How do you rate the standard of housing Atlanta compared to Germany?
I definitely live a much better life here in the US then in Germany, compared to my experience and income. I'm glad and happy, and feel appreciated plus I want to go back to school and get my BSN degree and my masters as a CRNA.
What are the locals like; do you mix mainly with other expats? Was it easy meeting people and making friends?
I love and enjoy hanging out with all different people from very different parts of the world.
I always enjoy meeting new people and friends and learning from them.
I also enjoy meeting or hanging with the locals, " the sweet and caring southerners".
I have a great time wherever I go.
Anything else you would like to share with us?
I'm very excited to join the Euro circle and attend the monthly meeting "finally".
I met David Nienhuis (ATL) a long time ago and he always invited me, but I never had time to go.
Connect with Constance
EuroCircle: Constance Beer
Facebook: www.facebook.com/constance.beer
LinkedIn: Constance Beer