EuroCircle Houston June Happy Hour @ Bacchus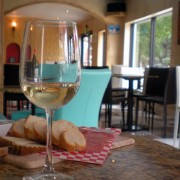 Come join us for our June Happy Hour at Bacchus, a wine and coffee bar with a Greek twist! No cover of course.
Happy Hour prices are $1.00 off the glass or $4.00 off the bottle for wine, and $1.00 off all beers until 8:00 p.m. House white is $5.00 per glass and house red $6.00 per glass.
NOTE ON PARKING: There is a small parking lot to the south of Bacchus, but plenty of street parking on Dunlavy and surrounding streets.
See you there! Invite a few new friends!
Mary Beth, Shahla & Wade
Like us at www.facebook.com/eurocircle!
EuroCirckle Houston Facebook Group www.facebook.com/groups/172355259455117/!