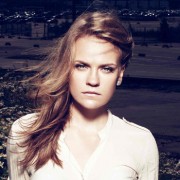 We love to feature some of the more interesting members in Helsinki. This month you meet ANNI (Mattila), she is Finnish and I ran into her at SXSW in March 2013 here in Austin, TX. She is now living in Helsinki but she lived in Boston for 1,5 years while studying at Berklee College of Music.
When and why did you start playing??
We had a piano at home of which I was really interested in ever since I could reach my fingers on the keys. My parents taught me some children's songs and when I went to school I started piano lessons. I loved it, my first compositions and original songs started coming right away after starting the lessons.
Which instruments do you play?
My musical foundation is in playing piano.
Is your family musical??
My family has always been culturally active, though I'm the only one taking a professional career path. My older brothers played instruments, we read a lot of books, and we went to see art exhibitions quite often. The kind of "food for thought" aspect was somehow always there.
Which famous musicians do you admire? Why?
Obviously, there's a lot of them. For different reasons. I admire jazz pianists like Herbie Hancock and Keith Jarrett for their virtuosity and eloquence. And on the other hand, different "pop" acts like Michael Jackson, Beyoncé, Common, Daft Punk… Anyone who's able to create a whole imaginary world around his or her music amazes me. Also, I've got lot of friends and colleagues in the industry that I hugely admire because of their vision and perseverance.
Which famous musicians have you learned from?
I've studied a lot of Stevie Wonder's songs, so I think part of my songwriting comes from there
What are your fondest musical memories?
As a kid, my mom used to accompany me with piano while I sang old Finnish movie tunes and jazzy evergreens. We did that a lot. And when my grandparents came to visit, I played piano together with my grandfather, who was a violinist. It wasn't anything spectacular, but it was a nice, comfy way of being surrounded by music and your closed ones.
Were you influenced by old records & tapes? Which ones?
Recordings are the foundation of this craft. You have to listen to a lot of music to be able to play it yourself, or to write it. It's the only way. I love music so much, and different genres. You might fall in love with one style or artist for a while, but you never really let go of the other stuff – it all just builds up.
If I have to name a few old records, I'll give you three, though they might be quite obvious: Miles Davis' Kind of Blue, Michael Jackson's Thriller and Stevie Wonder's Innervisions. On top of that, I love bossa nova. I think it's the Brazilian saudage that really connects with the Finnish melancholy – the beautiful melodies with sorrowful yet hopeful harmonies.
Who are your favorite musicians? Groups? CD's?
At the moment I'm really diggin The Robert Glasper Experiment and how they're combining jazz with hip hop elements. Then again I love great songwriting and singing, so women like Kimbra and Luai really get me. It doesn't even matter what genre it is, if the songs, the vocals and the production is good.
Have you been in competitions? Fleadh's? Any prizes?
I haven't been to any American Idol styled competitions, because I don't believe in building a career like that. If I wanted to get my face on the TV, there would be other ways to do it. But I studied at Berklee College of Music with a scholarship, so I guess that counts as a prize!
Do you perform in public? Describe those occasions?
Yes, I love performing. I just finished a 3-week tour on the East Coast playing mostly in New York. I'll be doing a live performance on a radio morning show in a month which is going to be very exciting.
How do you handle mistakes during a performance?
Mistakes are part of life – and performing. Actually I think it's kind of fun, when something unexpected (i.e. "a mistake") happens and then you can have fun with the whole situation. That also brings the audience closer, and builds an environment of trust, that I know what I'm doing, as an artist. Of course you have to master your instrument, your voice, your songs to be able to deliver the performance the best way possible, but it's not about the little mistakes. In life in general, we shouldn't count our mistakes, we should count our blessings.
Do you get nervous before a performance?
Yes, always.
What advice would you give to beginners who are nervous?
It's energy. If you've mastered your performance, turn the energy towards good. Think positive, enjoy the situation and be grateful of the possibility to perform.
How do you balance your music with other obligations?
Besides my career in music I'm studying world politics in the University of Helsinki. It's a tough combination, yet extremely inspiring. Getting deeper into both, I see political science and artistry as the two ends of a single line: One is the extreme close up of an individual learning to connect with other individuals, the other is studying big systems trying to understand them as a whole.
Website: www.annimattila.com
Facebook: www.facebook.com/anniband