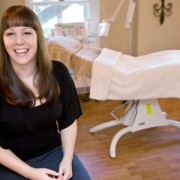 We love to feature some of the members of EuroCircle. In February you "met" online the lovely chanteuse from Switzerland, SILVIE RIDER. This month you meet Manja Hossa, a European entrepreneur in Austin.
What's your name, from what country are you from and when did you come to Austin??
Manja Hossa, I am from Slovenia and came to Austin in 2006
What do you do for a living?
I'm the founder and an esthetician at LePA Skincare – an authentic European day spa in Central Austin.
How would you describe what you do?
I my profession, I am lucky to be able to help change people's lives. Specifically those with problematic skin. In the process I get to be their trusted friend – something that I am so grateful for!
What does your work entail?
Technical; complete skin care, hair removal, body treatments, anti-cellulite treatments, and make-up
Customer Service; take care of my clients in every way that I can; help them take care of their skin; help them feel their best.
Business; manage shop and LePA team.
What's a typical work week like?
Owning own business is a 24/7 job – I breathe it, I live it, and I love it!
How did you get started?
I got started as a 13 yr old at my mom's spa in Slovenia. Was lucky to look over her shoulder and learn the technical and customer-service side of the business at a young age. Since love brought me to Austin, I wanted to continue the family legacy in Austin as well so we opened LePA Skincare in 2008 (on my mother's birthday).
What do you like about what you do?
truly enjoy the craft and the rewarding feeling of helping people.
What do you dislike?
Sometimes the commitment required to run a business weighs heavily on personal/social life.
Is it hard as a foreigner in this business to make it success in Austin?
No, being a foreigner in this particular industry is an advantage.
What education, schooling, or skills are needed to do this?
In Europe, esthetics is regarded more of a clinical/medical industry than it is in the United States; we were required to attend a 4-yr technical school to be licensed.
How much time off do you get/take?
Once a year when I visit my beautiful country – Slovenia!
And the occasional three day weekend to go fishing with my husband 
What is a common misconception people have about what you do?
– Most people in the States only go to the esthetician on special occasions – for a pampering facial. I have to spend a lot of time educating clients on how skin care can actually slow down the aging process and help ensure healthy skin.
What are your goals/dreams for the future?
My goal is to become an educator – extend the work that I do now educating clients about proper skin care to educating skin care professionals so that they can help change people's lives as well….
What else would you like people to know about your job/career and YOU?
I love modern dance and am part of a dance company.
By the way, how did you find out about EuroCircle and when did you join?
I've been looking for other people in Austin from my part of the world because I was homesick and stumbled across the Facebook page (last year). So happy that I did because I've met so many great people since then!
info@lepaskincare.com and telephone 512.468.4614.
LePa Skin Care is located at 2520 Longview Street · Ste 314
Austin, Texas 78705.