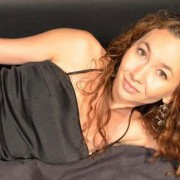 Starting this month, we are introducing "EC member of the month" AND since our annual Valentine's party is around the corner, Codrina will also be co-host Cupid…Male co-host coming up next…Thanks
Where are you from?
I am from Romania
When did you come to the US?
Came to the US as a child in 1986
How long have you been an EC member?
EC member since 2001
What do you do?
Consular Assistant at the Canadian Consulate
Since you're our co-host Cupid, we have a lot of questions about love! What's the most romantic city in the world?
Paris and also anywhere where you fall in love. The rosy glasses through which one sees the world will dress up everything in beautiful colors.
Best place to go to in Chicago for a first date?
I like Tocco for a first date 🙂
American men or European? Discuss.
I have more in common with European men but chemistry is chemistry and when one connects on the three levels of mind, body and soul, then it does not matter which country one is from. Differences in culture can enhance one's life experience and your understanding of the world expands.
Which language do you consider to be the language of love?
Italian is the language of love.
Most important quality in a man is?
Since an individual is multidimensional or "a whole package" it is hard to pinpoint just one quality. I think that once there is mutual chemistry between two people, character is very important since it encompasses the mental and moral qualities of a person