Fall Mixer Kick-Off at Ecco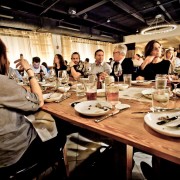 Thanks to all of you for another great turnout earlier this month at the the Four Seasons Hotel. I will continue to look for places like the ones we've enjoyed over the last few months but I also want to return to some of our earlier venues (prior to our rapid surge in membership on facebook). For the EuroCircle veterans who remember, we've had some great turnouts at various venues throughout town, including Ecco.
We will have our next event there again,(Tuesday, October 6th). Ecco is located in Midtown (40 7th street / ATL 30306). You can also go to www.fifthgroup.com for more information and directions.
Please RSVP either on facebook or the eurocircle website (no need to add your name to both sites).
I need to have an acurate count as this venue is a little smaller than the last couple. Depending on crowd size, we will also have the outside pation and deck area. Valet Parking and pay parking across the street available or free parking alongside Ecco or on West Peachtree.
Official invitations to follow as usual.
Salutations – David