March Madness Cocktails & Conversation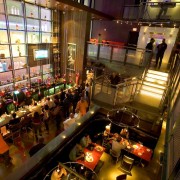 Hello everyone:
Our event last month at the W Buckhead hotel was great but I anticipate an even better crowd for our upcoming event.
We will have it next Tuesday, March 3rd at AJA, formerly Emerald's restaurant, located at 3500 Lenox Road (Alliance Center, Suite 100). Start time as usual will be at 7:30.
The good news is we will have complimentary valet parking as well as complimentary parking across the restaurant (in the glass building), validated by the restaurant (up to three hours after arrival) for those of you who do not wish to valet.
I have also arranged for free appetizers (NOT full dinner), so this should be a fun-filled event. Personally I think this is a great venue and perfect for our group. We will have our own section located in the right back corner from the entrance by the side bar.
Looking forward to seeing everyone next week.
Salutations –
David