Latin Night at the brand New HAVANA Club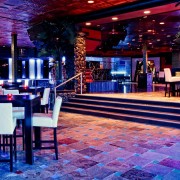 Greetings everyone:
Sorry for the late notification regarding our February EuroCircle event but I just confirmed the venue earlier this evening.
We will have our next get-together at the brand new Havana Club, located on Piedmont Road in Buckhead. They are typically closed on Tuesdays but have agreed to open up especially for EuroCircle, so I hope all of you can make it – should be a great turn-out, despite the late notification. LET'S CELEBRATE!
As usual, appetizers will be served, but we will also have a $5.00 wine & champagne special in addition to a full bar menu.
I have also been given a stack of VIP cards which I will be handing out during the night. I received a tour of the facility today and I guarantee you that this ranks as one of the top three venues since my involvement with EuroCircle.
I will have the official facebook and eurocircle website invites sent out later today and will send reminders between now and next week, so please be sure RSVP so I can get a head count for Tuesday night.
PS: The Havana Club is having their grand opening this weekend (Fri & Sat) so come check it out if you have the time – otherwise I hope to see everyone next Tuesday!!!
Salutations,
David