Summer Cocktails with European Twist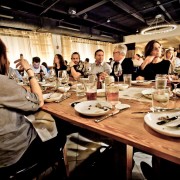 No door fee.
As you know, we usually try to meet every first Tuesday but since the 4th of July is tomorrow, we will meet the following Tuesday (July 10th).
http://www.ecco-atlanta.com/
The menu tempts with an impressive cheese and charcuterie selection ranging from Parmigiano-Reggiano and Fontina Val d'Aosta to Sopressata and Prosciutto de Parma. There are exquisite paninis, pastas, and wood fired pizzas; bold, shared plates like fried goat cheese with honey and cracked black pepper and short rib stuffed piquillo peppers, and main courses such as a fig-glazed lamb loin with warm potatoes and chicory.
Ecco also features an adventurous, creative wine list, representing both boutique and well-known European vinyards with many selections exclusive to Ecco. With its oversized bar, large open-air patio, beautiful private dining room and fresh, bold approach to seasonal European cuisine, Ecco is Atlanta's quintessential neighborhood favorite.
Esquire's "Best New Restaurants in America" Review
USA Today's "Local Tastes" Review
Creative Loafing's 3-Star Review
Atlanta Journal-Constitution's 4-Star Review
Atlanta Journal-Constitution's Spring 2007 Dining Guide "Top 10″ Review
Travel+Leisure's "Atlanta's Not to Miss" Review
Executive Chef Micah Willix
With over 12 years of culinary experience, Chef Willix joins Fifth Group Restaurants as Executive Chef at Ecco. Willix was most recently the Executive Chef of Seasons 52 in Ft. Lauderdale. In this position, he assisted in designing one of America's first healthy concepts. Before opening Seasons 52, Micah served as Executive Chef of Mark's Las Olas, also in Ft. Lauderdale.
His progressive yet straightforward approach to cooking is the ideal match for creation of the bold, European dishes featured at Ecco.