Cocktails & Conversation @ Eclipse di Luna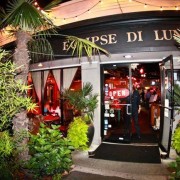 Hello everyone:
Another great turn-out earlier this month at ECCO. Our next get-together for July will be at Eclipse di Luna on Miami Circle. I apologize for the late notice and will make sure that all future event notifications will be sent in a timely manner.
I've been checking out some new places in town and several of them are perfect for our gatherings. I also appreciate several of you giving me tips on other locations to concider.
Hope to see everyone next week (Tuesday, July 1st) from 7:30 PM onwards
Salutations – David