MidSummer Cocktails at the Luxurious Palomar Hotel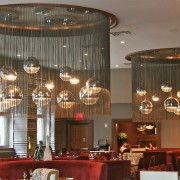 Hello everyone:
It's almost that time again – thanks for coming out last month to the St Regis, we had a record attendance of 235 people. Our next event will take place July 7th at the Palomar Hotel in Midtown.
We will be meeting upstairs on the outside deck towards the cabanas where we will have an extra bar set up as well as the usual appetizers served. Due to the large crowds attending recently, please be so kind and rsvp so I can give a headcount to the hotel. Remember, it's summer time in Atlanta, so dress appropriately as it could be hot. Valet parking is available at the front of the hotel, otherwise I suggest parking on West Peachtree and the side streets near the hotel. You can get to the roof top bar/patio by either using the elevators in the main lobby of the hotel or by walking up the stairs through the main bar area near the restaurant.
Hope everyone has a great 4th of July weekend and looking forward to seeing you next week!!!
Salutations,
David