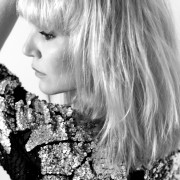 My  name is Astrid Swan. I'm a Finnish singer/songwriter and a doctoral student from Helsinki.
I am currently in Austin Texas in The House of Songs. My stay here is dedicated to writing and co-writing with local songwriters. Luckily, I have also had time to explore Austin with my family, who I was fortunate enough to be able to bring along. It has been a wonderful break from the grey, cold and dark times of Finnish winter which we left behind. The bustling, warm and welcoming surroundings of Austin and its people have offered us a chance to pause and have some distance from our usual routines. Meeting local songwriters has been the best part of being here. It is quite a strange and exhilarating feeling to meet someone for the first time and then immediately write music and lyrics with that new person.
This trip to the USA has been significant for me personally, because for the past years I have remained very close to home – first with a small baby and then because I was in treatment for a life-threatening illness. The complete change of scenery has afforded me the freedom to redefine our day-to-day life, embrace new tastes, neighborhoods, friends, climates, thoughts and dreams.
Leaving our safe and sound home environment behind was not easy, but once we were on our way it has been fun!
After initial jet-lag, I have been surprised by how easily a young child adjusts to a new temporary home – embracing its differences and making gentle comparisons to his home far far away.
The nature in Austin has been a source of wonder and delight, our child has loved seeing palm trees, oranges, nut trees and millions of cactus variations. Another very material way of getting to know new surroundings is the local cuisine. We have enjoyed lots of Mexican food, some pizza, one meal of hamburgers and lots of home cooking from wonderful organic ingredients. Eating fresh berries, nuts and chilies and tasting the American cinnamon rolls for example, have been important steps in getting comfortable in a new place.
WHAT HAS CHANGED SINCE 2007
Since my last visit in Austin (in 2007) the city has grown and changed significantly. What I see and feel is simply my own interpretation, but it seems that there is a two-way development in action: on the one hand the city is attracting big business, it is becoming more expensive, consumer-oriented, polished and mainstream, but on the other hand poverty, homelessness, need and despair is more visible than before. The divide seems bigger.
The 'old Austin' with its rich alternative culture appears to be mostly a memory and a facade that is held up for tourists. Not being able to drive in a city like Austin is a real limitation. The lay-out of the city is not designed for walking or for public transport. Using services like Uber and taxis has been the only way for us to get to different areas of the city. We have also walked more than the locals. Walking has been a great way of experiencing the city, but some distances are simply too long. I have thought about the differences in city planning a lot this time during my stay. Reachability and access are key aspects in deciding what kinds of people are welcome to visit areas and parts of a city. I have noticed that this question of location is also a question of class in the US. From this point of view my hometown in Finland could not be more different.
Writing with local Austin songwriters has been very rewarding. I have learned about what kind of a songwriter I am. I have gotten lovely feedback and have admired the talent and originality of the musical souls I have met. I have also been able to compare cowriting culture here and in Finland.
It has been delightful to realize that good songs are still the currency that counts.
As I write my stay in Austin is nearing its end. We will stay in the US for another week-long vacation in New Mexico visiting some dear friends of our family. On Monday December 7th (TOMORROW) I will perform some songs at the Strange Brew Cafe in Austin. My fellow musicians and cowriters Graham Weber from Austin and the Swedish Simon Stålspets will be playing too.
TONIGHT Dec 7 she is performing @ Strange Brew Cafe (5326 Manchaca Road, Austin) with a fellow Swede Simon Stålspets and Graham Weber from Austin.
Just a quick look into Astrid's world (an older tape though):

Website: Astrid Swan
https://www.eurocircle.com/euro/wp-content/uploads/articles-interview/2015/12/Interview-Astrid-Swan.jpg
2848
4288
Kaisa Kokkonen
http://www.eurocircle.com/euro/wp-content/uploads/2014/06/eclogow1.png
Kaisa Kokkonen
2015-12-07 22:33:57
2022-01-10 21:41:28
Astrid Swan – Finnish singer/songwriter looking for inspiration @ House of Songs, Austin