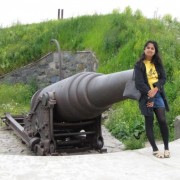 I wanted to interview Vibha, who lives just outside Helsinki, as her country is just about the opposite of Finland. India is huge, with many religions, languages and so on. I don't think anyone can say that Finland is very multicultural. I was super curious to see how she had adjusted to the culture – and the climate. She has a very good approach to any issues that may be a problem for many expats! Way to go!
Where are you originally from and where are you living now (, city + suburb)? When did you move here and from where (by yourself)? Planning to stay long – or return to your own country?
Hi, my name is Vibha Deshpande (Vibha Saraf) and I am originally from India. I was born in a town called Nagpur in central India. I was working at Microsoft Bangalore before I moved to Finland about a year ago. Presently I live in Espoo. I am currently working at Microsoft Finland as a Premier Field Engineer. I am a full time employee so, I haven't thought about going back yet! It's just the beginning!
Why did you move; what do you do for work?
I moved because my husband was already working here in Finland. And since we were figuring out how we could live together, I started applying for jobs internally in Microsoft. Luckily for me, there was a position here at Microsoft Finland, I applied for the job and got through.
What do you enjoy most about your current city, how's the quality of life? Any negatives? What do you miss most about home (or where you moved from)?
The thing I love the most about my life in Finland is how simple and sorted it is. There are no added complexities. People are very helpful and want to interact, though initially they're all a bit shy.
People might say that winters are that one thing you dread living in Finland, but I don't agree. I really enjoyed the last winter, barring the first day when I saw snow falling from the skies for the first time in my life and I was quite scared, I thought I'd be buried in the snow – Now when I look back I can imagine how silly I might've looked. I can now proudly say that "It is never very cold, it's just lack of proper clothing
Is the Helsinki Metro Area safe? Are there any areas expats or locals should avoid?
As a Premier Field Engineer, I travel across the capital region of Finland and also have to visit the remote places at times. I have travelled during peak hours and also have returned late at nights. I never felt even remotely scared.
I am told that some parks are unsafe during nights, but I feel that at least in Finland, as long as you don't venture out inviting trouble, you are pretty safe.
How would you rate the public transport? What are the different options? Do you need to own a car?
I've been travelling across Europe and also to the states across the great pond, and I think Finland undoubtedly has the best public transport system. There are some areas that are being developed like the West Metro that will connect Espoo to the metro network and then it will be really amazing.
I travel to customer's everyday as a part of my job and it is a different customer every day. It's never more than one bus/train/metro (or combination) connection to reach the customer from my base.
How would you rate the healthcare and the standard of housing in Finland?
I think people in Finland live a very healthy lifestyle. Some form of exercise is a integral part of their lives. So people from India for example, who are used to taking heavy medicines find it a bit difficult. But I think coming here is a wakeup call for us to really understand how to lead a healthy life.
I have changed a few houses within Finland from Helsinki to Kerava and now to Espoo, and I found that the housing is quite good everywhere. The basic facilities are available everywhere whether you are in city center or living far away.
What's the cost of living compared to home? What is cheap or expensive in particular?
Cost of living is definitely much higher in Finland. For example food items are much cheaper in India. But the quality of products is much better here.
What are the Finnish people like; do you mix mainly with other expats or also locals? Is there anything that you find very difficult about the Finnish people to understand and accept? It is a very homogenous country which may cause issues.
I think Finnish people like to "mix" with expats only if we as expats don't have any inhibitions and don't push them. They want to take their own time and then they become your best friends for life!
Did you find it easy meeting people and making friends?
Initially I felt quite lost, because I did not know how to break ice, but gradually over the last year I think I've made very good Finnish friends.
How does the work culture differ from home? What about social culture and habits? (this is usually very interesting for most people…different customs, work culture, how people treat each other, can you trust people, do you feel safe, racial/ethnic/religious issues, culinary differences etc)
Work culture in India is quite competitive. People are always competing to win! Here people focus a lot on work life balance. Ensuring that private life does not get affected negatively by work pressures.
There is a lot of automation and self-reliance – It took me a while to take in the fact that I need to weigh and tag my own vegetables at the super market, or assemble my own IKEA furniture.
Is there anything else you would like to share with EuroCircle readers? For example anything that really surprised you positively or negatively (misconceptions or nice surprises or really bad surprises). Feel free to be open about it.
Come to Finland and experience simple living and high thinking. People may be shy but they are not judging you. When you trip on ice during winter, people will come and help you pick up your stuff and tell you that even they fall, after all these years and you'll have a great laugh!
The more I know about the people in Finland and their history, I've have started respecting them more and more. Though shy, you must appreciate their infallible spirit of "Sisu".
Connect with Vibha Deshpande at Linkedin