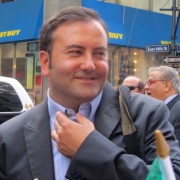 Meet Pasquale Maio – Founder of Italians of New York and EuroCircle Member. I – like just about anyone else – really love Italian food, music, design, language and nature. I have been to Italy multiple times and would love to be able to speak Italian. Almost anything in Italian sounds romantic – not the case in Finnish. Try saying "I Love You" in Finnish…ugh!! It is "minä rakastan sinua". You do not have to say minä (=I), you can also just say rakastan sinua. I don't think an average person thinks "romantic" when they tink about Finland – Italy is the ultimate romantic location for many of us.
Who are you and what do you represents in New York and what is your role with the group?
My name is Pasquale Maio and I am the founder and executive director of New York Italians, a volunteer based non-profit organization dedicated to preserving, promoting and celebrating the rich culture and heritage of Italy and its people through outstanding cultural events and culinary programs, language classes, educational lectures and charities.
I live in NYC with my wife and children. As an Italian attorney, I mostly represent Italian companies and individuals seeking to do business in the Unites States as well as Americans interested in doing business in Europe and Italy in particular.
I have been here in NYC for 4 years. After living together in Italy for 10 years, my wife received a job offer and we chose New York City as the next step in our life's journey. My wife and I have known each other since we were three years old. Her mother is originally from my hometown Orria, on the hills of the Cilento National Park, one hour south of the enchanting Amalfi Coast.
Italy is a lovely country – it is loved by most people for its culture and language compared to countries like my country Finland. How many Italians do you think (or know) there are in the NYC metro area and how is your membership etc. My guess is you are one of the biggest if not the biggest European group in NYC area.
I honestly don't know the exact number of Italians living here but surely I can say many J. According to the Italian Consulate in NYC approximately 90,000 Italians reside in town in 2011 but unofficial sources say around 200,000.
What I know precisely is that my organization, New York Italians, has 11,000 subscribers. We receive many emails and request to do more and we will definitely try.
Membership is vital to support our mission and achieve our goals. We have 3 levels of memberships:
Student at $10 per year; Member: $20 per year; NIAF-NY Italians Dual Membership at $40 per year.
Partners: $250 per year.
Members receive a" special treatment" in terms of advantages, discounts and better conditions in reference to the services provided by our partners. Dual Membership with NIAF gives the opportunity to get advantages and discounts in the whole United States not just in NYC.
Resources donated are used to fund our projects like the "New York Italians Scholarship" (in collaboration with Fordham University, Department of Modern Languages and Literatures Department starting September 2013 we created a fund to encourage the study of the Italian language, preserve Italian traditions and benefit students enrolled in Italian programs at Fordham University providing scholarships.
Resources raised will be given to the top 5 students of The Fordham Acting in Italian course) and the "New York Italians Free Mammogram Screening" In partnership with the American Italian Cancer Foundation, we are very happy to be hosting a free mammogram screening on September 29th in Union Square. This is a NO COST digital mammogram and clinical breast exam. This free service is for under insured and under privileged women.
What does your group want to accomplish and what would make you really happy as an accomplishment with your group?
New York Italians is organized for the purpose of providing a benefit to society as a whole, developing opportunities for our members, advancing US – Italy business, offering internships for younger members and networking events for professionals. In establishing closer cultural relations between the United States and Italy, we pledge to create a stronger face-to-face community to preserve Italian heritage and strengthen the common thread between the Italian and Italian-American populations.
The New York Italians Mission includes:
Encouraging the study of Italian language and culture in America
Preserving Italian and Italian American traditions, culture, history
Promoting closer cultural relations between the United States and Italy
Educational programs and scholarships
Grants for cultural preservation and advancement
Engage the community in innovative programs and advocacy issues
Cultivate partnerships with academia
Medical research
Disaster relief
Other Special Projects
I am really happy about what we have done so far.
How do you think it is working out, what are your biggest obstacles and the best surprises that have come along?
What is the most captivating thing about NYC for you?
The energy and the awareness that nothing is impossible if you work hard and really want it.
What would you tell a visitor not to miss in NYC? If they are Italians would that answer be different..?
To walk around without any destination and listen
What is the most memorable thing that has happened to you in NYC?
My two daughters.
Is there something that annoys you about NYC?
Not polite NYers
Do you have any favorite restaurant/s in NYC – for Italian food or other cuisines?
Too many and all owned by friends, so I better skip this question
Where do you go in NYC to chill out?
At home.
What do you miss most from your own country? (any place to find real Italian atmosphere in NYC for you etc)
I honestly don't miss Italy: I go there 4/5 times a year and when in NYC I am surrounded by Italians, speaking Italian and eating Italian food all the time.
How often do you go back to Italy?
4/5 times per year
Pasquale, you lived a long time in the USA. If could choose would you still live in NY, NY – elsewhere in the USA or go back to Italy?
I have been in NYC for only 4 years and I love it, before I move back to Italy one day, I will be here for a while.
Have you connected with the other international groups in NYC?
We did collaborate with you guys of Euro Circle to promote women rights and celebrating the international day of women last year. We would love to do more. We also coordinated few lectures with two Asian organizations in NYC.