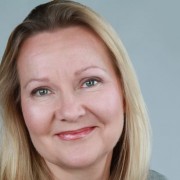 Heli Bergius was probably the first Finnish person I connected with when we moved from Manhattan to Austin about 3-4 years ago – and that was almost a year after we had moved. I finally decided to start EuroCircle Austin with the kind help of Carla Wilkenfeld whom I met on the trail next to our buildings. Carla's dog Capote recognized a dog lover and greeted me.
Imagine what a surprise at the first event at the Austonian to find out Heli comes from the same area in Finland as my family – that has never happened to me in the USA!
Who Is Heli Bergius– and what does Heli do/where? (education, some personal details, kids etc)
Mom, editor, writer, journalist, Realtor… in that order. I have been working as a Realtor in Austin for 6 years, and enjoyed it a lot! It has been kind a similar task as being an editor – help people to find their dream home, when as an editor I help them to write the book they have been dreaming of.
Both are "people" businesses. If you do not like people, choose another path and profession!
I have a MA in comparative literature, and I have been working as an editorial manager in several publishing houses in Helsinki, Finland. After moving from Finland I have been able to work remotely, as a freelance editor, but could not go work in an American publishing house, since my native language is not English. I reinvented myself in Real Estate, studying first the degree for Interior Design, and then getting the Realtor´s license. Currently I work with Goldwasser Real Estate, a company where the revolutionary real estate model puts the customer first.
Kaisa's comment: She also has written several non-fiction books (a total 11), out of which four are cook books. Heli is a wonderful chef, I cook and occasionally it works 'well'- she is more like a chef.
You grew up in a very different area compared to Austin. Can you tell us more about it?
I grew up and lived in Finland until year 2000, when we moved to London, England for two years. Finland is always my home country, no matter how long I stay away from there. Actually Helsinki, my Finnish home town for the longest time, is not so different from Austin except the weather. Compare Alaska and Texas, then you see the difference..
What has been the most exciting "thing" or role that you've covered during your career or should we say careers?
I would have to repeat myself a bit and say that the most exciting and exuberant thing has been working with people. As an editor, I have been helping people to write a book, and fulfill their dream. As an Realtor, I have done the same by helping them to purchase their dream home. The fundamentals are the same.
Is there any particular story, moment, an award or an achievement throughout your career or life that you are particularly proud of?
Those are the moments when I got my three wonderful children. They are the absolute highlight of my life, and everything else fades when compared with them. (Kaisa's note: Heli's youngest child Charlotta will stay in Austin while Heli is moving to Finland in September 2013, Joonas just graduated from a Dallas college and lives in NYC. Niklas studies in Finland)
What would you say is the biggest misconception that people have about your profession (writing/editing)?
The role of an editor is invisible to the reading audience. Therefore most people do not know what kind of huge transformation a manuscript goes through on the way from the writer´s hand to the finished book. On most cases nothing is the same, when the editor has done her/his work.
What do you enjoy most about being a real estate broker vs. your previous life? What the worst about being a real estate broker….
The best part of being in real estate is the flexibility of my working hours, ie. I am not fixed to the 9 to 5 corporate hours. I can work only few hours a week, or the total 24/7. On the other hand – I am also working during the weekends and evenings, when my clients (and my family!) will have free time.
Kaisa's comment: The best and worst thing about Heli is that she does so many things. She has two lovely dogs, Prince (dachshund) will stay with her daughter in Austin. Pippin, Cavalier King spaniel, will move with Heli to Helsinki in September 2013.
What have you found to be the biggest difference between living in Finland and Texas? Just out of curiosity loved to hear something about your UK/London experiences too.
Weather! The weather is the biggest difference, but same time it restrains people same way. In Texas we do not go out during the summer when it is too hot. In Finland we do not go out during the winter, when it is too cold. But overall, the amount of the sunny days in Texas is just awesome!
During the years I lived in England I miss few things: the politeness of people, the quantity of history around, and the immense beauty of the nature. And I love the English food as well! High tea! Mash and bangers! Biscuits! Cheeses, curries, piccalilli, Ploughman´s sandwiches!
What kind of people survive and do well in this field of work (real estate broker vs. editor/writer) in your opinion?
People who like people and have great networks = connections. If you are not comfortable in working with people, think about some other career…
Are there any books that you would hate to edit?
Hmmm… not really. The only genre that comes into my mind is very technical books. The better the editor understands the subject, the better work she/he can do. The work gets difficult when you have to struggle to understand the subject.
What advice would you give to other aspiring European real estate brokers aiming for success in Austin?
Networking is super important – the more you know people, and they get the message that you work in the real estate, the better. Find your country men and let them know you can help! As European we have the advantage to speak other languages than/on top of English, and other Europeans love to do business on their own language!
The Finnish community in Austin is small – and it will really miss Heli when she moves to Finland in September 2013 with her Cavalier King Charles puppy Pippin. She has been a wonderful friend to many of us, always there for you when needed. In addition, given the circumstances in which she raised her three kids she has done a tremendous job – the same can be said for her kids. The Bergius family is a great family with good values. Heli's mom Annikki suddenly passed away in January 2013 – I had the pleasure meeting her in Finland before her death as did my mom and sister Kirsi. Annikki will be fondly remembered in Austin as she made us these wonderful socks that in our highrise building make people always ask "where did you get those socks?" I just wear socks to go to the lobby to get coffee. Gary's absolute favorites!
Heli's daughter Charlotta graduated from high school this spring and she will stay in Austin with their dachshund Prince (who is a charmer) to study here. We wish both them a happy journey in their new roles.
Connect with Heli Bergius
EuroCircle website: Heli Bergius
Facebook: Heli Bergius
Website: Goldwasser Real Estate