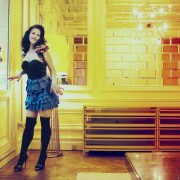 I asked Sinem to answer a few questions as she is such a nice multicultured person – and talented! Well, judge yourself. Sinem's Turkish name translates to "deep from within my heart, or my heart, my love". Sinem translates that feeling into her lyrics and reflects her sensuality into her music. Well, judge yourself.
Please introduce yourself (name, country, where are you from and what do you do, where do you live, what did you study and what, family etc)?
My name is Sinem Saniye, I live in New York, and have been a new yorker since I was 3 years old, but I was born in Germany, and my heritage, is Turkish. My family is all over the world, we are quite the international bunch. My brother is out in Colorado with his family, my cousins, in NY, in Izmir and Istanbul, Turkey, and one is even living and working in Bermuda right now! I studied Music in college, Skidmore College that is, and one year of grad school at New York University, studying recording Engineering.
My love for music is so vast, I was kind of all of the place with my studies! In undergrad, I was a Music Major with concentration in Classical Voice, ie Opera, with a wonderful teacher, David Reeves. I also studied Music Technology with my other favorite teacher, Anthony Holland, and took Jazz guitar lessons on the side right before I graduated, with the incredible, Chuck D'Aloia. When I came to NYU for grad school, I veered from the program yet again, because I met Jazz voice guru, Janet Lawson, who changed my life. She's a Grammy-nominated vocalist herself, and I still work with her in New York City to this day! Learning never stops.
When and why did you start playing/singing – and which instruments do you play?
Well, when I was 3 years old, I would put on a little "show" for my mom and whenever we had company, and pretend to be Michael Jackson. I'm an MTV generation kid, so I was influenced by the pop greats at a very early age. I started singing at home, I had a little electronic keyboard, and wrote my first song at age 5. It was terrible! But that's where I started. It was only later in life, much later, high school and college actually, that I started performing publicly, my songs, and other people's songs, and picked up a guitar for the first time. I'm a late bloomer, but I experienced so many other great things as a child (I was on the gymnastics team, then varsity soccer, dance, and traveling) that I don't really have any regrets. I play guitar now, and a little bit of piano, but mostly for composing purposes. I can also bang on the drums if I'm feeling adventurous, hehe.
What was the first tune(s) you learned?
The Star Spangled Banner, in school, in the second grade! Then I got to sing it at Staples Center before an NBA game in Los Angeles, for the LA Clippers in Dec of 2010, for 20,000 people, a capella. What a full circle moment that was…
Is your family musical? Describe your family member's musical interests and abilities
Ha! No one was playing any instruments or was musical at all in my family when I was growing up. Isn't that funny? There certainly was a love of music, mostly classical, but no active musicians. I found my own way. Luckily I had a family that pretty much let me do whatever I want at home, and I didn't have any siblings close to my age so I was left to my own devices, and with a keyboard, a kid can get creative. The songs are bad ofcourse, I was and am no mozart, but it got the juices flowing, and made me realize that's what I wanted to do in life. I love writing music! I found out later, though I never got to hear/ see it, my mother was a successful pianist in her youth, before I was born, and that my grandfather, dad's dad, played the violin a bit. I wish I could have experienced their music.
Which famous musicians do you admire? Why?
Jeff Buckley, Elvis Presley, Sam Cooke, Amy Winehouse, Frank Sinatra, Yves Montand, Edith Piaf, Michael Jackson, Astrud Gilberto, Antonio Jobim, to name just a *few* of the musicians I greatly admire who are no longer living. Their artistry is timeless. Their talents, out of this world. The music? Gives me goosebumps. I'm not sure any living person comes close to these legends. But I love and admire all kinds of music. Stravinsky, Debussy, (i'm still naming dead musicians!) .. of the newer artists, I think Regina Spektor, Leanne La Havas, Emilie Sande, Koop, Eliza Doolittle, are all lovely, and my guilty pleasure, is….. Katy Perry.
What are your fondest musical memories? In your house? In your neighborhood or town?
Oh gosh, there are so many. I can almost say, every moment. Looking back, even the tough times, say in the studio, or when I'm trying to learn something new on guitar and it is frustrating, becomes a fond moment when I conquer it. The feeling of "I did it" is out of this world. Constantly challenging myself, and overcoming, is the best. But there are certainly some other moments, that I still pinch myself thinking about. Singing the national anthem at the NBA for 20 thousand people in an arena is one of them! Performing at the NYC Turkish-American Parade, again to thousands, is another. Seeing my music video on MTV Europe for the first time, opening for Lisa Loeb, going on tour in the US, recording with amazing, Grammy-award winning producers, performing in amazing venues, and with amazing people, all very fond memories. One of my most dear memories is meeting the legendry, late producer and music mogul, Arif Mardin. It was very early on for me in my musical journey, but he was an inspiration. He supported me, and was just the sweetest, funny, and most intelligent person. I am so grateful to have been in his presence, even if it was for a short while.
Were you influenced by old records & tapes? Which ones?
At home, my dad was always playing classical music, both Turkish and American, but my favorite record he played a lot was the soundtrack to West Side Story. Then we watched it in school when I was 7 or 8, and I knew all the music. It was an amazing feeling. However, I was most influenced by MTV (back when they actually were playing music videos!) because that's what I would watch everyday after school. Billy Joel, Madonna, Billy Idol, Bruce Springsteen, Pat Benetar, Cyndi Lauper, Michael Jackson, Guns and Roses, Jon Bon Jovi, were always on.
Who are your favorite musicians? Groups? CD's? Since you are multicultural, you may have more varied likes/dislikes. Describe your own musical ambitions.
That's a great question because my CD collection is an organizers nightmare. I think I have everything but Polka. Lol! Seriously, I'll start naming a few: I have Wu-Tang Clan, Korn, Colby Caillat, Tori Amos, Sheryl Crow, Madonna, Tom Waits, Astrud Gilberto, Buena Vista Social Club, Brazilian Girls, KT Tunstall, Kelly Clarkson, Katy Perry, Metallica, Spanish flamenco music, Astor Piazzolla, tango collections, The Frames, Radiohead, Bebel Gilberto, John Mayer, Jonatha Brooke, Miles Davis, Lester Young, Lena Horne, Opera's Greatest Hits, Greek folk music, Turkish Ottoman music, Turkish Pop music,my friends' CDs, and all the artists I already named above, including Janet Lawson's CD, and many vinyl records, mostly obscure. I think the most obscure CD I have is an album of African thumb piano music. But what is obscure? Over there Taylor Swift would be obscure, most likely
Have you been in competitions? Any prizes?
I've been really grateful with the awards I've received thus far, for my first album, "When I Don't Sleep.." and the songwriting awards for that album. The most prestigious of which, was the *Grand Prize* win in the International John Lennon Songwriting Competition, started by Yoko Ono herself! That was in 2006. Since then, I've continued to collect awards, all of which are listed on my bio site, http://www.sonicbids.com/sinem under Awards. I'd love to add a Grammy to that list one day
Where do you perform in public? Describe those occasions? Concerts, radio, TV?
I've performed everywhere. Festivals, events, weddings, galas, parades, radio, TV, large stages, small stages, all of the country, and all over the world. Every experience is different, and fun. Of course I loved performing at the EuroCircle events too!
How do you balance your music with other obligations – mate, children, job?
It's just me and mama now, and my boyfriend, and it definitely isn't easy balancing it all. I make time in pockets, for my music, for my family in Turkey, for my friends, and that's how I'm able to balance it. Of course my number one priority is my mom. Her happiness, her health, her well-being, means more to me than anything. If she is not well, then I am not well. Mom is number one, the rest follows.
I think you told me once that you spend time every year in Turkey? Are you still doing that? I always wonder how would it work if you – having spent most of your life in the USA – if you fell in love with a Turkish man who is a fundamentalist. That might be hard, right?? I guess I am asking also would you prefer staying here in the USA no matter what (If yes or no, why…)
I am in Turkey right now, actually! In my beloved Istanbul. Like in the previous question, I make time in pockets, for everything to happen, and for me to be balanced. I have to come here over the summer to see my family, my cousins, the little kiddies, and for peace of mind.
Even though I was born in Germany and raised in NYC, these are my roots. I can feel it whenever I come here, and I love it. Plus, there is the boyfriend factor. I have to keep coming here for that to work. Lucky for me he isn't a fundamentalist, and not all Turkish people are. But as a general rule, you're right, that wouldn't work for me, for a fundamentalist from ANY country for that matter. We have some in US as well. I'm open-minded, love the arts, don't believe in prejudice, or judgement, and am a bit of a mischevious, free spirit. So, I'd prefer staying around people in an environment supports this. I don't know if I'll stay in the US forever. I'd like to try new places. Time will tell!
Could you share with us how you first found out about EuroCircle?
You are actually the only NYC member who has visited me in Austin – I was so happy to see a familiar face when I hardly knew anyone here at the time!
Hmm… I think it was Ozgur Madak. He was also one of the first Turkish people I had met in NYC, and he took me under his wing and supported me so much, as you have supported me, and I am eternally grateful for that!
Likewise, going to Austin and being with you, a familiar and warm face, for me as well, in a sea of strangers at SXSW, it was a haven, and a pleasure to be with you in Texas. I thank you and Gary eternally for that experience, and for having me! EuroCircle I think is a fantastic organization. It's the perfect group for someone like me, who is an international citizen. To be able to go to the events, and to interact online, with like-minded international people of various ages, from various countries, and in various fields of work, is amazing. Even in NYC, you can feel alone. With EuroCircle, I feel like I belong. Thank you for starting and maintaining this fabulous group, and for this interview! It was an honor. xo
Connect with http://www.facebook.com/sinemsaniye at Facebook
Twitter: http://www.twitter.com/sinemsaniye
Website: http://www.sinem.net
Email: Sinem_net(at)yahoo.com
Management: 1 646 894 9300
Video links:
http://www.youtube.com/sinemsaniye
http://www.youtube.com/sinemsaniyeblogging