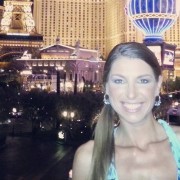 Would you please introduce yourself to the readers, you name, country of origin – and what do you do/where?
Hello! My name is Valentina Ciardi and I moved to the USA from Italy. I own a modeling agency in Las Vegas.
What has been the most exciting "thing" or role that you've covered during your career or should we say careers?
Before I owned a modeling agency I worked as a model. Walking the runway is the most exciting thing I have experienced, it's live, you can't make mistakes, and I always ended up with butterflies in my stomach.
Is there any particular story, moment, an award or an achievement throughout your career that you are particularly proud of?
My modeling agency was given the 2012 Best of Indianapolis award.
What would you say is the biggest misconception that people have about your profession?
That you can only work as a model if you are 5'10, a size 0, and under 22 years old. There are lots of different types of modeling that one can do and they all have different requirements. For example, my agency specializes in trade show models and trade show modeling has completely different requirements compared to runway modeling.
What do you enjoy most about being a modeling agency owner vs. your previous life? What is the worst about owning a modeling agency?
My favorite part about owning a modeling agency is receiving thank you emails from my clients when I help them execute successful events and get a return on their investment. It always makes me feel warm and fuzzy inside. I also enjoy the flexibility that my job allows. Most of the time I can work from anywhere in the United States as long as I have my laptop, cell phone, and internet connection. The worst part is having to hire new models. Even though my company has a great screening process in place, you never fully know how a model will work and how reliable she will be until she actually gets booked. I don't enjoy the uncertainty and lack of control that at times I have over the situation.
What have you found to be the biggest difference between working or studying in Italy and USA?
I was still in school when I moved to the USA so I never experienced having a real job there. Italian high school is much harder than in the USA. You have to study many subjects at once and students are given a lot more homework. It worked out well in my favor since I didn't speak English when I first moved to the USA and attended high school here. I think the level of high school education is much more advanced in Italy than in the USA but universities are more advanced and have a better system in place in the USA than in Italy.
What kind of people survive and do well in your field of work in your opinion?
There's tons of pretty girls out there so it's easy to replace someone if they don't do a good job. The ones that make it and continue getting bookings are the ones that are easy to get a hold of, show up on time, act professionally, and never cancel on confirmed booking. Models should also have a tough skin and not get their feelings hurt easily as rejection is part of the job.
Are there any roles/jobs that you would hate to cover?
I can't think of any.
What advice would you give to other aspiring European models aiming for the stars in Las Vegas?
My #1 advice for all models is to never pay an agency upfront for anything. If an agency asks you for money, they are trying to scam you. Agencies should make money from work that they book you for, not from selling you a spot on their website or professional photos. Also, make sure that the agencies you select to work with are licensed in the state in which they are based out of. Last but not least, do not allow sleezy photographers to talk you into taking lingerie or implied photos. They will not help you book paid work and your booking agent will not be able to submit those photos to most clients anyways.
What and who captivate you in the world of the celebrities – and why?
To be honest with you I'm not at all into celebrities. I don't own a TV by choice and have no idea who most celebrities are.
Since you are Italian – must ask what do you miss most from Italy– think you ever return to live back there? And how is the Italian community in Las Vegas…
My family is sill in Europe so they are what I miss the most. I also miss the food, but that is also a blessing at the same time. I would probably be really out of shape if I still lived in Italy because of all the pasta and other carbs that I would be eating every day! I have not had the pleasure to meet any Italians in Las Vegas yet. I have been really busy with work since I moved here this summer and when not working I enjoy traveling. I don't see myself returning to live in Italy because I have lived my entire adult life in the USA. It would be like going to live in a foreign country and I would have to relearn how everything works.
What do you see the best about the Italian culture/people vs. American?
The best trait about Italians is how close they are with family and being able to slow down to enjoy life. The best trait about Americans is being hard working and entrepreneurial.
What places have you lived in the USA – and which one do you like best/least and why??
I lived a little bit everywhere: Northern California, Kansas City, Chicago, Denver, Phoenix, Indianapolis, and now Las Vegas. With the exception of Indianapolis, they were all nice places to live in for different reasons. The main reason I did not enjoy Indianapolis is because the weather was a nightmare. It gets too cold in the winter, too hot and humid in the summer, and I was terrified of all the tornado warnings. I'm also used to cities that offer more activities and more culture. My favorite one is Las Vegas. I enjoy living in a large city, there is always something to do, and it's the perfect location for my business. I also like how easy it is to fly in and out of
Glam Model Management: www.GlamModelManagement.com
Facebook: www.facebook.com/GlamModelMgmt
Twitter: www.Twitter.com/GlamModelMgmtn