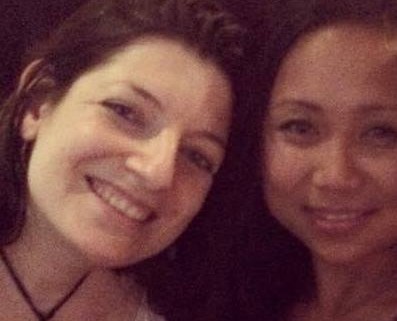 Ukrainian-born Yanika Schneider finds happiness in her work and life in San Francisco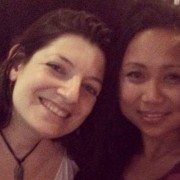 My name is Yanika Schneider. I was born in Kiev, Ukraine and immigrated to the USA when I was nine with my parents and younger brother. First my family came to Pittsburgh, PA, but after a few years moved to the Bay Area.
So where in the Bay area did you live and study?
My early education in the Bay was marked by living in two areas with radically different demographics.
In middle school and the first year of high school, I lived near Cupertino, a suburb of San Jose that has a predominantly Asian population and is known for being the Apple headquarters. This experience exposed me to Asian American food and culture, such that Thai, Vietnamese and Japanese became my favorite cuisines. I also came to understand the immigrant experience from an Asian perspective, which I found similar to the Ukrainian/Russian/Soviet customs and values practiced in my family.
Is that where you graduated from high school?
In the beginning of my sophomore year of high school, I relocated to Redwood City, which is a middle class, largely Hispanic suburb 30 min south of San Francisco. Now my high school was half Spanish-speaking rather than half-Asian. As a result, I became more immersed in the Latino culture. I was invited to quinceañeras, learned how to make flan and took three years of Spanish, which I continued through college. I also got a chance to pursue my interests in community service, writing and science by becoming involved in a service organization, as well as taking on the positions of the editor in chief of the high school yearbook and the co-captain of the robotics team.
How interesting. Where did you go to college and why?
Exposure to diverse groups of people and experiences was excellent preparation for college. Unlike most of my peers who remained in California, I chose to attend a small liberal arts school in Iowa called Grinnell College. Despite its location, Grinnell was a fascinating place with a very international student body hailing from different parts of the U.S. and the world. I studied chemistry and history, while taking nearly enough philosophy classes for a triple major. Without a core curriculum or many required classes, I was able to get a good technical background in the sciences while pursuing my love for the humanities. Grinnell was all about getting both sides of the brain to work in symphony.
I am impressed, that is not the typical choice/s for anyone. Did you stay in Iowa after college?
After college I continued with my scientific interests by getting my PhD in materials chemistry at UCSB. Living and working a few blocks from the beach was an amazing opportunity, as was the wonderfully collaborative scientific atmosphere of the university.
What happened once you finished your PhD?
When I finished my degree, there was no doubt that I would return to my favorite Bay Area, and I was very fortunate to obtain a Postdoc position at UC Berkeley and the Lawrence Berkeley National Lab. I was involved in an artificial photosynthesis project that allowed me to expand on my polymer (plastics) chemistry knowledge by learning polymer physics. Here I became fascinated by how materials function, how their structure affects their properties and how this can be altered to obtain optimal characteristics.
Academic career – most PhD's end up that route. How about you?
After finishing my Postdoc, I briefly worked at a nine-person startup focused on developing new supercapacitors. This experience was as exciting as most startups (plus I was the only female), but after the funding dried up, I moved to an analytical lab where I work now. I use my polymer science knowledge to help engineers and scientist troubleshoot materials problems including failure analysis, deformations and contamination investigations. My job is interesting because I work with so many diverse industries that every day feels different.
Are you happy living in the Bay Area?
Since moving back to the Bay, I've lived in San Francisco, which is my favorite city. I cannot say enough about its diverse culture, amazing food and breathtaking architecture and natural beauty. You will most likely find me enjoying a happy hour in SoMa or Dogpatch (where I live), dancing in the Mission at BaoBab (great Senegalese food!) or Blondies or hiking up Glen Canyon or Lands End. I'm a big fan of the arts and spend quite a bit of time at SOMA-Arts, the Recology artist in residency program exhibitions as well as the galleries on Geary St. I also make a point to cross the Bay and spend time in Oakland and Berkeley. I particularly love the Oakland food scene as well as the monthly art walk.
If you're ever in SF and need a tour guide, get in touch with me VIA EMAIL
Connect with Yanika (of course also via our member forums):
https://www.eurocircle.com/euro/wp-content/uploads/member-san-francisco/2015/04/Interview-YanikaSchneider.jpg
397
397
Kaisa Kokkonen
http://www.eurocircle.com/euro/wp-content/uploads/2014/06/eclogow1.png
Kaisa Kokkonen
2015-04-11 00:54:36
2022-01-10 21:41:37
Ukrainian-born Yanika Schneider finds happiness in her work and life in San Francisco