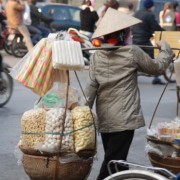 Many people know of Vietnam from history books and one of the most tragic wars of our time for both American and the Vietnamese people. While there are no exact figures, it has been estimated that between 55-60,000 Americans were killed during the Vietnam War, and approximately 1-2,000,000 Vietnamese were killed. Bear in mind that most counts of fatalities for the Vietnam War apparently do not take into account war-related deaths in Cambodia and Laos.
What people don't know if that Hanoi in Vietnam is considered to be the most beautiful city in all of Asia. The city has two dozen lakes and on the edge of the city the roads dissolve into a maze of winding and narrow wooded lanes.
A majority of the city and people who live in Vietnam get around on bicycles and motorbikes. There are also meter taxis and hired cars that you can take to get around Hanoi and other cities.
Within the north end of the Hoan Kiem Lake in Hanoi is where all of the tourist shops, inexpensive hotel and cafes are located. It is the oldest and busiest as well as most interesting part of the city. This district is also known as the "Old Quarter", "Ancient Quarter" as well as "36 streets." The 36 little streets in the quarter are each named for a commodity once sold by all of the businesses on the streets. For example, they are named for medicine, jewelry, fans, copper etc. The more you explore the more interesting stuff you will find such as lacquer ware makers, tinsmiths, tailors.
The city of Hanoi is very compact making it easy to get around for sightseeing. While in Hanoi go to Ho Chi Minh's Mausoleum, the most visited and revered site in Vietnam. This shrine was built on the edge of Ba Dinh Square, where Ho Chi Minh delivered the Declaration of Independence of the Republic of Vietnam to more than half a million countrymen in 1945, after Japan surrendered.
Note: Ho Chi Minh, real name Nguyen Tat Thanh (1890-1969), Vietnamese Communist leader and the principal force behind the Vietnamese struggle against French colonial rule. On September 3, 1969, he died in Hanoi of heart failure. In his honor, after the Communist conquest of the South in 1975, Saigon was renamed Ho Chi Minh City. Ho Chi Minh was the soul of the revolution and of Vietnam's struggle for independence. His personal qualities of simplicity, integrity, and determination were widely admired, not only within Vietnam but elsewhere as well.
You can continue on to the Ho Chi Minh Museum which is Vietnam's most important architectural achievement. It opened in 1990 to commemorate Ho's' centenary. The exhibit's chronicles his busy early years.
Your tour should continue on to the Van Mieu known as the (Temple of Literature) and Quoc Tu Giam (National University) which offers much serenity once you are through its towering gates.
They make one of Asia's loveliest spots and show some of Vietnam's most amazing religious structures and historical treasures. There are great pools filled with Lotus that are blooming and date back to 1076.
These are just some of the amazing sites that you will see in Vietnam and Hanoi