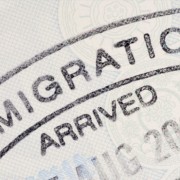 The United States has a long history of welcoming immigrants from all over the world. USCIS (U.S. Citizenship and Immigration Services) does its best to help them successfully integrate into American civic culture.
They have created a publication Welcome to the United States: A Guide for New Immigrants, which offers a comprehensive guide containing practical information to help all of us immigrants settle into everyday life in the United States. The guide also includes basic civics information that introduces us as new immigrants to the U.S. system of government.
The guide is available in 14 languages. Welcome to the United States is also available for purchase in English, Spanish, and Chinese through the U.S. Government Printing Office (GPO). To order a print version of this publication, visit the U.S. Government Printing Office at http://bookstore.gpo.gov/.
Don't forget that you can find plenty of other useful information at their site. How about "How Do I Customer Guides" that answer questions regarding immigration benefits in several categories.
They say the USA is the land of opportunity. Yes, it is for many people – including many fraudulent scam artists. One section is named Avoid Scams: The Wrong Help Can Hurt. So why do you need to read about that? Many people may offer help with immigration services. Keep in mind that not all are authorized to do so. While many of these unauthorized practitioners MAY mean well, all too many are out to rip you off. This is against the US law and may be considered an immigration service scam. This section will help you to avoid becoming a victim of an immigration scam, gives tips to identify common scams, find free or low-cost legal services, educate your community on immigration scams and report immigration scams in your state or U.S. territory.
In sum, always check out the government resources, they are usually free and are there to help you – not to hurt you!