After Work Rendez-Vouz @ Clubhouse Bistro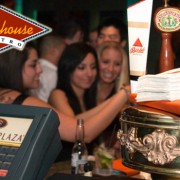 The Summer is no time to work, especially in Sunny California. So skip out work early and come join us at the Clubhouse Bistro in the Crowne Plaza Hotel in Foster City.
There will be free appetizers and a tiny wine tasting will also take place. The Crowne Plaza is right off the 92 and has free parking. This is just a social mixer to meet and greet other Europeans.
Save-the-Date:
For a big fun dance event, come to our Italian Disco Event on Thursday June 13 at 8PM at Unicorn in the Financial District of San Francisco. This will be a 80′s and Italian Disco, so think Sabrina, Koto, Max Him, Fun Fun, Ken Lazlo, Modern Talking, Eddie Huntington, Savage, Ti Sento, Scotch, Roger Meno, and many more. Some of them still sing and produce today! So dress the part, go white pants or totally 80′s prep! More info will follow!
Cheers,
Marc and the EuroCircle Team