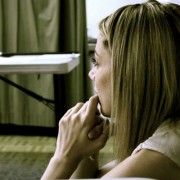 SCENE – A REHEARSAL STUDIO
SHERI
Hello Sanja
SANJA
Hello Sheri
SHERI
So, when did you first move to New York?
SANJA
I moved to New York in 2004, chasing a dream. I came here for school, for Bob Wilson's school on Long Island, because he was one of my idols. And, I fell in love with New York and I just decided I wanted to live here.
SHERI
And what challenges did you face when you first moved here and how did you resolve them?
SANJA
Well, the whole immigrant life is very challenging. In order to make it big, you need to face a lot of difficult things. In order to stay in New York as an immigrant, first. Let's say that I went through a lot, a lot of difficult things to stay here and it was worth it.
SHERI
What was your biggest challenge?
SANJA
To stay legally in this country so that I can go home whenever I can need to be home. So, Sheri, when did you move to NYC?
SHERI
Well, I'm a little bit of a cheat because I was born here, I moved here when I was born, but I left when I was four and I was raised in England and I moved back here in 1998.
SANJA
Why?
SHERI
Oh, this is going to make me sound so wet. Well, there were two reasons. One, I felt I had gotten as far as I could get in the UK. I had just played Kathleen Turner's sister on the mainstage at Chichester and had come home to being a jobbing actor again, I had a car, I had a flat, I wasn't attached, I wasn't married, I didn't have children and everyone had always been saying, oh, you've got a passport, you should go, you should go to New York, and I had done this job and had no other work so I though, 'sod it, I am going to go to New York for six months' and in the first few weeks I met the man who was going to be my future husband. And so that's why I stayed. But, the other reason – I knew I was going to meet the man who was going to be my man. It's the city of dreams, it's the city where you chase your dream and sometimes your dreams come true.
SANJA
Yeah, I think, basically, always here dreams come true, it's just how hard your wish. But, I wish my story was that romantic, like yours, mine was more career, career, career.
SHERI
Well, I wish mine was more like that, too, I wish I had been more focused on my career. But, then I may not have had my wonderful family, but, I think there were sacrifices I made to my career for my relationship. I think.
SANJA
Do you think that is the case in life, that you have to do that?
SHERI
That's a great question. I think there are choices that you make, and it depends on what you want and how badly you want it. Obviously, I wanted the relationship more than the career.
SANJA
So, no regrets?
SHERI
That doesn't mean no regrets. Did you experience culture shock in America?
SANJA
Living in New York city is more different than living in any other city in the world. I think this is different from living in America because New York isn't American, New York is, is..
SHERI
An island off the coast of American-
SANJA
Yeah. So, it's just a separate country, separate world, separate dimension, I guess, so it wasn't much of a culture shock, I am always led by the sentence when you're in Rome, live as the Romans do, so I am a New Yorker. So, did you experience any culture shock in this country?
SHERI
Well, it's interesting because that's kind of a hard question to answer because I would say everybody in the world is familiar with a version of New York City, through film, through pictures. It is maybe the most famous city in the world, I would imagine. So, in that sense it wasn't a culture shock. The culture shock was, 'oh, I'm really here. I'm really looking at the Empire State Building, I'm really here' and the shock for me, coming from London, was how friendly and welcoming people were. I made friends really quickly, and I landed in a show in the first couple of weeks of being here and the way I got seen for that show was people recommending me to other people in the downtown scene, and I had an instant group of friends right away. Oh, and the other thing was people assumed I was really smart because of my accent whereas my accent had always been a negative thing, back home. So, that was a really nice culture shock.
Do you feel that being an ex-pat has influenced your career choices?
SANJA
Not necessarily. I think here it's not important where you are coming from, what's important is what you have. I know that my education and my experience in theatre and film is really good and long, so I have my tools and I know exactly what I'm going for, so I was ready. And, I'm always ready for the higher goal. I came here with a plan and I've accomplished a lot, probably fifty percent right now, which is a lot for the amount of time I've spent in New York, that I'm actually in New York, but I have fifty more to accomplish the higher goal that I have in the next five years, so I think I'm on a good track. And, being Serbian, I'm very proud of it, I'm very proud of where I'm from and what I'm bringing with me. I'm very patriotic. Identity is something very important and I'm never going to lose that, that's for sure.
SHERI
Has your career here influenced your career at home?
SANJA
Definitely. Because, what they say, if you can make it here you can make it everywhere, so you're more appreciated because you are fighting in this other country with tigers and wolves who are just as good as you, so it's a matter of how you train to survive. Because this is a jackal that's for sure.
SHERI
It'll eat you up?
SANJA
Yeah. So, for you, same thing. So, do you think being an expat influenced your career?
SHERI
Yes and no. Yes, in the sense that I, as an actress, a lot of what I do is now dictated by the fact that I was raised in England. For example, I only go out for voice-overs which need an English accent even though my first accent was an American accent and I can switch very easily. That limitation is interesting. On the other hand, it has also given me an advantage. It has meant that I have a voice-over career, that I don't think I would have had if I hadn't been an ex-pat. And I think that's the main thing. Other than that, I don't think it's made a difference like you said, I think it's really about the work that you do here. It really is a city that can open up to you but you have to really fucking pound that door, you have to kick and it's made of cast iron but you've got to keep on pounding. And, I don't think it's influenced my career at home.
SANJA
No?
SHERI
In a way, my career at home folded because I had a career over here. I think over there – and here – they think of it as either or. For a while I tried to do both but it became impossible. So, Sanja Bestic, what's the biggest misconception you had about New York when you moved here.
SANJA
I don't know. Everything was better than I expected, in a way. I fell in love with New York so I don't see easily all the problems with New York, all the negative things. When some of my friends they come, and their expectations are probably higher and they see that it's dirty and smelly and this and that. And I'm like, 'of course, twenty million people goes round Manhattan in a day it has to be smelly' but I don't see that. I see some other beauty in the city and the architecture. I love the energy. I don't know, maybe I'm really applying everything I saw in the movies to my vision in New York, so I don't see negative things. I love everything about New York, every single beat, I love even arrogant New Yorkers, and I'm one of them right now. I have become one of them. I love the fact that people are so focused and so into careers, and that's why we are here. We are here, all of us, different careers but all the same reason, our career. That's why New York is not kid friendly, it's why it's not pets friendly, there is no time for big families. There are no houses with mailboxes and golden retrievers. You know, it's just a city of dreams but some of other dreams, I guess. What about you? (1:44)What was your biggest misconception?
SHERI
My biggest misconception was that it was going to be really, really tough and that everyone's really mean, and that everyone's so focused on themselves that there's no space for friendship and that was completely wrong. It's the opposite. People are really open here. People are always working on themselves. I always say New York is the city of self-help and grooming. I find people are much more open that I ever expected, much friendlier. There's an energy that makes you feel glad to be alive. Of course, not everyone feels that and there's a bunch of people on Prozac, but I find there's an openness, a willingness that is unique to this city. On the other hand, some of the worst customer service, ever. But that was my biggest misconception. Theatre companies I've worked with here have been friendlier and willing to work, just showing up willing to work.
SANJA
But maybe, as we're talking about this, when I was, relationship-wise watching back home Sex & the city, first or second season, I thought it's not possible that you can find a guy in New York City. And, yeah, now I know. It's impossible.
SHERI
It's possible. It is possible. Look at me, I did it.
SANJA
I just want to say that Sex & the City is a very good show in terms of sociology and psychology of New York City. A lot of very smart people worked on that show so what's in the script is in life in New York City.
SHERI
What do you miss about Serbia?
SANJA
I made a lot of choices that are very connected to my career. And a lot of those choices were very selfish. The part that I miss about Serbia is friends and family that I left. I was lucky enough to have a lot of understanding on their side and support so they didn't dismiss me from their lives, but I'm very aware of my focus and some kind of, like, selfishness and being very focused on my career. I did make new friends in New York, I made a love of friends which is more like a new family which is more like in theatre. But, definitely the sacrifice is big and I miss a lot and sometimes I miss my previous life in terms of all the real friends, and deep friendships that I have there, and my family, my parents. What about you, what do you miss about England?
SHERI
I think I miss the connection. There's a familiarity and ease to do with family, to do with old friends. I miss not having to translate. I know that sounds crazy but English English is different from American English, and sometimes there's a way of joking in England-
SANJA
Humor, yeah-
SHERI
That uses language in a way that is different from the way Americans use language, and it's that different way of using language that I miss. And I realized when I went back there that I don't have to translate, that it's my first 'language' if that makes sense. There's a whole bunch of stuff I miss. It's hard to put into words, really. Family, friends. Oh, you know what else I miss? I miss onion bhajis.
What's the best food discovery you have made as an expat?
SANJA
I am very picky with food. I don't eat a lot. But definitely my biggest discovery is Thai food. I don't like to explore more when it comes to food so Thai food is my biggest love in New York. Except for Italian food.
SHERI
Well, something I discovered – I've gotten used to it now – but the sheer amount of food here. It just feels like every store is either a food store or a clothing store-
SANJA
Yeah.
SHERI
Unless you are on the upper west side and then there are some children's stuff thrown in there. I just remember thinking there is so much food here. And so many different kinds of food. I mean, the entire world is here. But, I grew up in London so I had a lot of those options anyway. Oh, but my best food discovery, and I'm going to sound crazy now, but my favourite food right now is raw, organic food. I feel so good when I eat it. When I eat it. I just love to eat that; I feel so clean when I eat it. I got into it when I chose to lose weight for a show last month and I loved it. Now, when I eat anything else, which I do a lot of, it feels cloying in comparison. Well, thank you, Sanja.
SANJA
Thank you, Sheri.
SHERI
And good luck with your show, Tesla, Sanja!
SANJA
And good luck with your show, Tesla , Sheri!