The Greek party and euro house soirée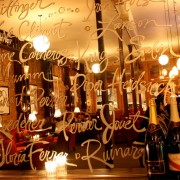 EuroCircle has the Honor to Host Tony Kutulas Electrique party that contains a Great Greek Party in the lower lever with 2 Greek DJ's Antonaki (Paros, Greece) and Tasso known for Greek and Club mixes.
So let's think like the Ancient Greeks and show that we can still party like Socrates in the 21st Century!
For the Europeans that still prefer the European House sound upstairs Nile, Reggie Soares and MvB will provide the newest international house beats on the Euro/SF Scene!
Yes you can have the best of both worlds!
There will be an area upstairs designated for our European Members so if you feel like a chat about the old world this is the place to be 🙂 However if you feel like immersing in the Greek Culture for something different than you are more than welcome to to use the Trojan Horse or stairs to party like a Spartan downstairs. So long you leave your sword and shield at home (that was last fortnight)
Here comes the Greatest News!
FREE WITH RSVP before 10:45pm*
It will be super strict thereafter!
This is only available through this FB invite or our website.
So its time for you to wear some stylish attire as we start enforcing a dress code as Eurocircle is getting momentum to having the most fun parties!!!!
As always Volunteers Needed!
Greeters, Chatters, and Hosts
SATURDAY NOVEMBER 15, 9pm-2am AT BUBBLE Lounge
HOSTED BY :: EuroCircle
VIP Hosts: RAFAEL, CHARLOTTE, SHAHIN & MOE
BUBBLE LOUNGE
714 Montgomery Street
San Francisco, CA 94111
VIP Booth Res. (415) 434-4204 | info@tonypresents.com
Stylish Attire | VIP List RSVP | 21+