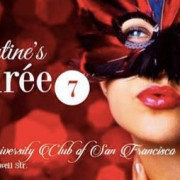 This is a TICKETED EVENT!!
GET YOUR TICKET HERE – type in EuroCircle for $5 discount!!
Fall out of love and fall in to fun at the 7th annual Anti-V party February 12 starting at 8PM at the University Club featuring in-demand San Francisco's DJ Elvi (Distrikt). Specialty drinks, down and dirty beats – this is one Anti-Valentine's party you won't want to miss.
The Irresistable Anti-Valentine's Soiree #7 program:
• Private event exclusive to 150 trendy guests
• Members only venue: University Club of San Francisco
• DJ Elvi (Distrikt) on the decks
• Glam photo-shoot
Bonus:
• Art Exhibit by Mariya Milovidova
• Strawberries & Chocolates
• Breathtaking views of San Francisco
• Fun evening by the fireplace
• VIP Tickets with a welcome glass of champagne available
Dress Code:
• Gents: Smart & Suave (Suits / Blazers / Smart Jeans / Shoes)
• Ladies: Glamorous & Sophisticated (Dresses/ Evening Wear)
• Strictly No Trainers and T-Shirts
• Theme: Mask of your choice OR Chic Librarian Outfit
The University Club is letting us use the Library Room, so don't be surprised if you sneak a kiss in the stacks. Dress as a chic librarian (you decide if it's naughty or nice) and enjoy a night of reckless flirting. Tickets are on sale now, hurry, like puppy love, they just won't last.