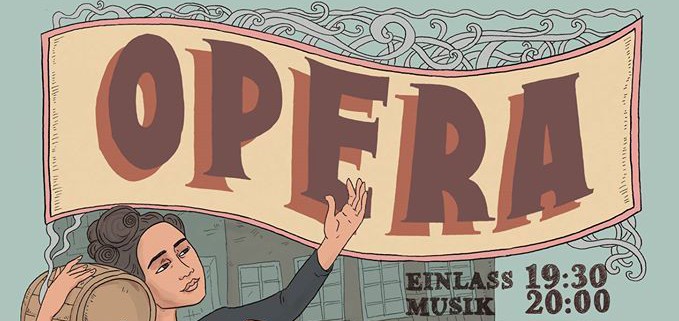 Many of the original EuroCircle members from all the way back in 1999 from NYC recall how much I love Opera. So did Anu Arponen who used to organize fun ballroom lessons for our members with Benito Garcia. In fact I think Anu knows by heart almost all most famous operas. Eline de Kat –   current Déléguée Artistique/Artistic Coordinator @ Opéra de Monte-Carlo – organized some unforgettable after opera events for us. Hundreds of EuroCircle members went to the opera with us.

I just found out that our
neighbor's daughte
r Sarah lives in Berlin. She is a co-manager (with Anne Byrne) of Opera on Tap Berlin, the first international chapter of Opera on Tap (OOT).  They are producing a full production of Jacques Offenbach's
"The Tales of Hoffmann"
in honor of OOT Berlin's one year anniversary.  The incredibly talented team of singers, with
Gidon Saks
, an internationally renowned, Grammy award winning opera singer, at the helm as their director.  He will co-direct with
Caroline Staunton
, assistant director at the Staatsoper in Berlin.
They searched  for something visually striking that would transport the audience to another world as soon as they walked through the door.  The result:  the Delphi, a former silent film theatre from the 1920's in Berlin.  The Tales of Hoffmann is about the author E.T.A. Hoffmann as he is going through a period of writer's block tinged with alcoholism.  Perfect fit, isn't it?
Everything in place.  Now all they need is financial support. Sarah and Anne launched their Kickstarter campaign to get funding. They need to reach €7,500 euros.
The deadline for fundraising is
midnight
on
December 24th
to raise all of the money for the project or they do NOT receive any of the pledged donations. Tip: read
Gary's Blog on crowdfunding!
Shall we give them a nice Christmas gift – and help to reach their goal!
Another way to help would be to share the video on your social networks at least in Berlin so they spread the news to as many potential donors as possible.
Here is the link to their video and the page where you can DONATE:
What is Opera on Tap
Opera on Tap Berlin at Facebook
The concept of Opera on Tap (OOT) was born in 2005 at Freddy's Bar and Backroom in Brooklyn and incorporated in 2007 to promote opera as a viable, living and progressive art form and to support the developing artists who continue to keep the art form alive. What began as a small monthly gathering of ambitious, classically trained singers looking for more performance opportunities, has grown into a producing organization that has gained a loyal audience base and national recognition as an innovative force on the classical music scene. Through its Chapter program, which now has sixteen vibrant national chapters, OOT has created a large network of performers, creators, and supporters.  Opera on Tap (OOT) is a not for profit corporation with 501(c)3 status.  The organization is formed for educational purposes including:
1) Educating the public on culture and the arts
2) Providing support and performance opportunities to young opera singers and classical instrumentalists.
Their mission is to:
Expose new audiences to opera and classical music by taking opera and classical music out of the concert hall and performing it in alternative venues
To aid young performers in their development by giving them the opportunity to perform and to promote and support them through our organization
To help promote new classical works of contemporary classical and operatic composers
Contact with Opera on Tap Berlin
Opera on Tap Berlin at Facebook
Email Sara
Send Email to Sarah Ring