EuroCircle Fall Kick-Off Rooftop Party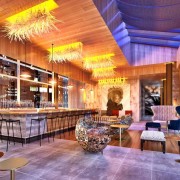 Join us for our fall kick-off party and our upcoming trip to India at this Midtown Rooftop Hotspot.
There is no cover when you say EuroCircle at the door and make sure to say EuroCircle at the bar and with the waitress for drink specials
Dress: Bollywood chic! The best Bollywood inspired outfit wins a prize!
This party marks the start of fall, so let's start the season in style, with some good music and a strong cocktail.
Our DJ will be spinning a mix of western and Indian Bhangra dance music, so put on your dancing shoes and party with us.
Tonight, we celebrate Eurocircle's Fourth Annual Adventure Abroad, and the start of a new EC season. This fall, sixteen Eurocircle travelers from all across the globe, will meet in New Delhi, and embark on a tour of Incredible India. Together, we will admire its architecture, sample its cuisine, ride its elephants, and track the elusive Bengal tiger. When it's all over, we will go home with beautiful memories and new friendships from around the world.
Featured Host: Sherry Kumar, Serbia– Here to welcome all EC travelers on yet another epic adventure, and kick of our fall party season, Sherry will be on hand to brag about the journey, and talk you into traveling with us next year.
Co-Hosts: Tonight's co-hosts are Eurocircle's travelers from our adventures in Turkey 2011, Peru 2012, Cambodia & Vietnam 2013, and India 2014
We look forward to seeing you all on September 23rd!
Best,
Alex and the EuroCircle New York Team
About Monarch:
Monarch opened with cocktail and light fare menu fit for the sizzling summer months in New York City. The Scandinavian-chic décor, designed by Natalia Todorova of Gwathmey, Seigal, Kaufman Architects, features an indoor lounge that radiates glamor and allures with seductive appeal, seamlessly connecting to the exterior oasis patio with sliding floor to ceiling glass doors. Vintage bricks, white painted hand washed wood panels on the walls, teak and grey custom Terrazzo tiles, and raw iron columns evoke a feeling of a Scandinavian summer home with accents of Manhattan elegance. Black pendants designed by Tom Dixon cast gold shadows on the natural tree form bar counter top and glass lighting fixtures project down to reflect on the modern wood walls. The modern, yet unimposing deep seated upholstered sofas invite guests to relax and bask in the views of Midtown Manhattan, while floor to ceiling silk curtains frame the picturesque view of the iconic Empire State Building.