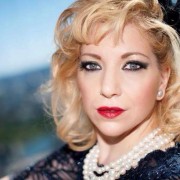 Meet Mina Deutsch, an amazing jewelry designer featured in publications such as Social Life Magazine, Resident Magazine and has been working in the diamond business for over 20 years.
Please introduce yourself
My name is Mina Deutsch. I was born and raised in Brooklyn, New York. I grew up with my brother , my parents and maternal grandparents in Brooklyn. We always were and are a very close knit family with strong family ties. My parents are eastern European. Romanian, Hungarian and German. I am currently residing in NYC.
Can you tell us more about how you got started in the jewelry business?
In the fall after I had graduated high school I met Mr. Perla, the uncle of a close friend. He is the owner of Olympic Diamond, he interviewed and hired me at the same moment , and so began my career in the famed Diamond District of NYC.
My duties in the company began as administrative assistant. As I and the company grew my responsibilities and duties increased. I am currently the Finance Director for the company and have gotten to work with various upscale clients worldwide. And also travel for the company including Hong Kong frequently where we have an office.
How did Mina D Jewelry start?
Mina D Jewelry was created out of a passion for creativity, even though designing jewelry seemed as a natural process after being in the diamond and jewelry industry for a number of years. Designing jewelry was a form of expression a way to add something special to my wardrobe, something unique and unavailable in a retail outlet.
What is your favorite collection and why?
My favorite collection is the Ocean Dreams collection. Each collection includes necklaces, bracelets and earrings and are based on color not season. The Ocean Dreams collection is the collection based on the blue tones and hues of the seas and waters. As a child I spent many summers in Miami Beach and always love the colors and tranquility of water and water hues.
Have you always lived and worked in New York City?
As a descendant of Eastern European parents culture and tradition was always important. Whether its seeing a Broadway show, visiting a museum or trying a new restaurant. Living in NYC always has a lot to offer . You never know when you will hear a familiar language and strike up a conversation with a tourist from my parents country.
How do you find the lifestyle in New York compared to your hometown? (housing, food, health care, education.)?
NYC is great for so many reasons, you can walk just about anywhere and there are so many bars, restaurants open at all hours. You can find almost every culture and every type of food, Italian, French, Japanese some of my favorites.
What do you like to do when you are not working?
A typical NYC day is always so rushed and busy, weekends are my time to relax, unwind, read a good book and catch up with friends and family.
How long have you been a member of Eurocircle?
Being a member of Euro circle since April 2014 has been a great experience, it lets me meet new and interesting people. Euro circle brings together a great group of people with diverse back grounds.
Connect with Mina:
Check out Mina D Jewelry
Mina D Jewelry on Facebook
Mina D Jewelry on Twitter
Mina D Jewelry on Instagram