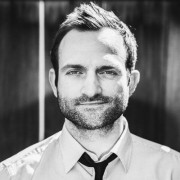 Matt Szymanowski has experienced both American and Polish lifestyles so I asked if we could interview him since he was planning to come here to Austin in November 2015. Austin premiere of his dark comedy film – greatly inspired by the Finnish filmmaker Aki Kaurismaki – will take place on Nov 14th.
Who are you?
I'm a Polish-American filmmaker currently based in San Francisco. I'm the first in my family born outside of Poland. As a child I spent many of my summers in Poland with family. I grew up with this dual cultural identity. As an adult I moved to Poland for filmschool, and it was one of the best decisions I made.
I now run a video production company called Wolves Films in San Francisco. We work with brands and artists to tell their stories in a compelling and visual way. When not making films for others I enjoy making my own stories. I recently finished my debut feature film called The Purple Onion. It's about a struggling Chinese American comedian in San Francisco, down on his luck, who finds inspiration when he meets a mysterious older woman.
How did you end up in  San Francisco of all places?
I grew up in Cupertino, the home of Apple. It was just a suburb to me then. San Francisco, just 40 minutes to the north always had this allure. I took art classes there for a couple of summers in high school. When I was accepted into San Francisco State University for my BA I felt it was too close to home. I opted not to study there. Instead, I studied humanities in Los Angeles at Loyola Marymount University. After that I took up an offer from my father to work with him in his furniture business so I moved to China for half a year. My father was grooming me to be his business partner. Though I knew I wanted to pursue filmmaking more seriously.
I applied to the renowned Polish Film School, and a few months later I left the furniture biz and moved to Poland. A one year director training course turned into four years. I directed a handful of short films, made close friends and got reacquainted with my family roots. Then, on a fluke, I was accepted into the only master's program in cinema that I applied to back in San Francisco. I missed my brother and mom back in California as well. So I left Poland. Quickly, I realized I didn't feel right in the program, and after a month I dropped out. I began working right away. Six years later I'm still here, and I'm ready for what's next.
How do you make your living now – and how would you like to develop that career?
I'm a video producer and director of video content. When I'm not directing commercial spots I'm producing and managing other video producers on various projects. I'm shopping my feature film around now and aim to have it distributed next year. I'm also developing my next film project as a Polish-American coproduction. And I have to tell you about this really cool project called Reach Out I created based my experiences with the amazing nonprofit Each One Reach One (EORO). Reach Out is an animated web series based on plays written by kids in jail. The original plays were created within EORO's playwriting program for incarcerated youth. We're working with another nonprofit, BayCat, which teaches disadvantaged kids media skills. Kids at BayCat will be handling the animation of these plays. So kids in jail are indirectly collaborating with kids outside of jail on these videos. We're now working on two pilot episodes before we aim to professionally produce more episodes for a full season. Eventually we want to attach name talent to act the voices in these plays. Wouldn't that be awesome? It's really an amazing project unlike anything I've seen, and along with the other projects going on, I don't get to travel enough.
Do you see the differences between nationalities easily – yours vs. Americans vs. other Europeans?
I've noticed Americans are more outwardly hungry for success, they're more calculated and eager to advance and improve their positions. This is fueled by a fierce optimism that can be matched with pragmatism, too. Maybe this is a characteristic mostly of folks in the Bay Area of San Francisco, Silicon Valley. And while Poles, and in general Europeans, can also be like this, I've noticed that in Europe life is better balanced with a desire to have more leisure and social time and not only live to work. I miss this balance.
I've also noticed Poles are less cordial than Americans and less so than many other Western Europeans. Poles have fewer social barriers. If they are annoyed, you'll likely know it. They don't hesitate to express themselves, their social filters are less precise. At first this was off putting when I moved there as an adult, and yet, with time, I came to appreciate this more instinctual behavior in daily life.
What do you absolutely miss from your Poland …or elsewhere?
When I'm in the US, I miss easy to get fresh deli meats, a wide variety of cheeses and freshly baked breads. Living in Poland I shopped for these things daily. There are shops that have these things on every corner. Here in San Francisco I need to go to Wholefoods or specialty stores where prices are high.
And when I'm in Poland, I miss In & Out Burger. I have to have my In & Out Burger at least once a month.
What cafes or restaurants do you recommend to tourists to go to in San Francisco and why? Or to do something else.
One of the best parts of San Francisco is the food. I mentioned that Americans are less concerned with leisure and social time than Europeans. And yet in San Francisco, there's an appreciation for food that is very apparent and maybe unmatched anywhere else in the US. It's as if a nice meal from time to time at a well reviewed restaurant is enough to balance out the long, intense workweeks and short vacation time. And sometimes it really can be.
What would be your ideal life – with no monetary issues to make it happen!
I want to combine my love of traveling, storytelling and social justice into an international career as a mediamaker and creative strategist. I want to work with visionary people and organizations in the fields of social justice to communicate their messages. I want to tell the stories of people who have no voice, people who have been silenced by unjust systems and flawed institutions. I want to utilize art, storytelling and creativity to better express and further these aims. With two passports and having lived on three continents, I'm a citizen of the world, and I feel I've only just begun my journey.
Would you move to Poland fulltime –why and why not?
I read an interesting article somewhere about the experience of being a foreigner. The article mentioned an "otherness" that foreigners experience. It's a sense of being detached from your roots, from your home. This detachment allows you to act more boldly, to do things you may not have done back in your home country. You can more easily create a version of yourself you used to only imagine as a foreigner. My parents did this, like so many others. They left Poland and they created new their lives in a new land. The irony is that having been born in the US, I have a need to feel this "otherness" that my parents experienced. I get a glimpse of this sense whenever I travel, I definitely felt this when I lived in China, and I also felt this when I lived in Poland. Now, after being back in California for six years, the need to feel that "otherness" is stronger than ever. I don't yet know if it's a much needed vacation that will temporarily cure this, or if relocating altogether is what's needed. Either way, I'm looking for the next adventure.
How to connect with Matt:
Facebook: facebook.com/mattszy
Website: www.mattszy.comy
Linkedin: www.linkedin.com/pub/matt-szymanowski/a/a95/313
Twitter: twitter.com/mattszy
Other: instagram.com/mattszy