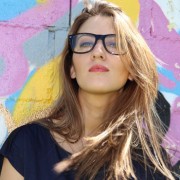 If you've ever wondered what it would be like to be living in Madrid… or Helsinki, Finland, we happened to know someone who moved fairly recently from Helsinki (she was an expat there) and now she is an expat in Madrid. Her name is Vaida Vaitekunaite and she is a lovely young lady from Lithuania.
Tell us about yourself – who are you and what would be the short story of your life – we know you lived in Helsinki for 2 years before moving to Madrid? (where are you from, where did you study, how did you come to Madrid/when etc)
I have always had a travelers spirit, I probably used all possibilities to escape my geographical comfort zone since I was 18. I have lived abroad with programs like Work & Travel, Erasmus, Erasmus Internship, so as soon as I graduated my business degree I felt that I am free to do whatever I want, to go wherever I want and to decide on my own when I want to come back. I have always been career oriented so thought that international experience would contribute to my professional and personal development significantly. Finland in my mind has always been a country with high quality of life, economically strong, organized and systematic with culture that is not so much different from my homeland- Lithuania.
To everybody's but mine surprise it took me just few weeks until I found my dream job when I got there. I tend to believe that you can always get whatever your mind can create and if you believe in yourself and are determined enough not to give up on the way it will come sooner or later. This job was just what I wanted- I was hired to work in one startup at the stage when there was just an idea of the product that was being planned to build. I didn't even had a name of position- opportunity to touch it all and to experience it all. It was a chance for me to use all the knowledge that I gained during my university years and get beyond of it when I actually got myself involved entirely in operations of creating a startup. It shaped my understanding of what a job should be- always challenging, always encouraging to learn, where mistakes also mean progress, the one that is open for innovation, flexible and fun!
I spent in Helsinki 2 years until.. it started to feel too comfortable again and a desire for challenge happened to turn my life upside down again- I landed in Spain. I was lucky enough to keep the same job that I love while Spain was being shake by harsh economical crisis. It's already 438 mornings since I'm waking up with Spanish sun
Do you think living in Helsinki enhanced your work experience – and why did you move to Madrid?
Firstly, I would say that Helsinki is a city open for foreigners. People are very tolerant there and what actually matters there are the skills or potential to gain these skills that you have rather than of what nationality, ethnicity or other external features you possess. Worklife in general is not too stressed, it is not that usual to work until late in the office like I imagine it is the rule rather than exception for example in London or New York. They are really efficient there, I enjoyed doing business with Finns as everything goes without many manoeuvres around, for example you want to talk to a CEO of some company- you just call him and he picks up, if by any chance there is a secretary in between it doesn't mean her role is to make the CEO look hard to reach. Conversations are facts based so no need to search for anything between the lines. Finland taught me the value of honesty in business relations- agreements there sometimes can be made by word and nobody questions that- as trust and responsibility are thriving values.
Madrid has a completely different business environment but it has always been the place for me which made me feel extremely good. I must admit that the atmosphere here is not that much pushing to grow in a fast pace but it all depends on personal motivation and determination. I find that Madrid can offer a perfect life-work balance.
What is THE thing about Madrid – or Helsinki – captivates you the most?
I love how honest and tolerant are people in Helsinki. Even though it's not that easy to make friends with Finns, but once you get to that stage- you will be friends for life. I enjoy the beautiful green landscape that Finland is rich of, thousand lakes and summer huts, Finnish saunas that you can find in every building (The part of jumping in the Baltic ice cubes bath is not in my list of favorites though).
It's not possible to mention all the things that I love about Spain The same as it's not possible to say what is THE thing about paradise hahaha I love the local food, wine, openness of people and that they live completely enjoying life, laughing a lot, interacting a lot. You need to learn how to ignore certain things here, which is probably called adapting to the local culture, but once you do that you will not want to come back to the Nordic way of life.
If someone asked you what I should NOT miss while in Madrid vs Helsinki, what would reply?
Oh Finnish sauna is a must-do and reindeer meet is a must-taste while in Helsinki. If we talk nationwide- Lapland is place which you cannot miss. It's where the world's childhood lives.:) And if you get lucky to see Aurora Borealis- it's view out of this earth!
In Madrid you should definitely take the most out of its nightlife- it has much to offer for all tastes.
What do you do in Madrid when you feel like you just want to chill out? What did you do in Helsinki in comparison.
Madrid has amazing terraces created exactly for that, not to mention that a swimming pool is possible to find in many apartment buildings so no need to go too far. Invite over couple of friends and you have a perfectly relaxing Spanish day.
Helsinki is full of green spaces, picnics in the park start as soon as it gets bit warmer, so around the mid of July. Kidding.. There are few amazing cafeterias on the coast of the Baltic near the Kaivopuisto park.
Anything truly memorable that has happened to you since you have lived in Madrid – Helsinki?
This definitely comes to the unbelievable people that I have met here and there.
Or can we skip this question? All that comes to my mind is so personal.
What really annoys you about either city– or maybe nothing does/did?
It would be comparing more north and south but I really cannot stand 6 months living with a snow and rather short daylight hours. There are weeks when you go out in the morning still with darkness and when you come back home it's dark again, even though it's only 4 PM. It effects on the energy level, on your mood and everything. This is something that is difficult to get used to if you were not born with that. What was also surprising for me when I came to live to Finland was a really strong sense of feminism. When talking to Finnish women – you can forget your gentleman manners. Don't let her go first through the door, don't open her the car doors, don't help her to dress the coat, if you do that- you are under the threat to be slapped to your face. Women always demonstrate how much they are equal with men or even a bit above. (Kaisa's comment: true with many women. I worked with top level management in Finland and the gentlemen behavior is expected in there. Many of those men have an officer/gentlemen attitude..moi – I loved it)
What I am still trying to get used to is the schedule that Madrileños are accustomed to. To have dinner at 10-12 PM on the weekends and go out at 1-2AM is the time when people in Helsinki are used to come back home after the party. Quite a drastic change for me and not necessarily the one that I like very much.
Do you have a favorite Madrid restaurants and why? Helsinki…
I love the Cheese Bar in Madrid that offers the long list of all possible kinds of cheeses and dishes made of cheese together with great selection of wines. There are lovely brunch places around Madrid as well.
I could hardly call Helsinki the best place to go out, however to enjoy the full experience it's definitely worth it to visit one of the nearby islands where you can find the restaurant called BoatHouse. Beautiful place!
Do you see there are benefits for someone from abroad to come to Helsinki or Madrid for a few years?
Definitely, I believe both of them can give great experience and both of them have things to offer. It depends of course on what expectations you have but I think all cultures have something great and the experience of living abroad is invaluable as much for professional as for the personal growth.
What do you think about the cost of living in other countries vs Madrid OR Helsinki– and the standard of life and life style?
Not sure about the other countries as one can hardly feel it while visiting for few days and my comparison might be far from reality but if comparing Madrid with Helsinki I would say it's close to two extremes among European Union countries. To put it more clearly- I think to maintain the same standard of life in Helsinki as you have in Madrid you need almost double more money. In Madrid, the cost of dining out, public transport, clothing and entertainment is really rather affordable and makes living here a lot of fun! However these years the salary levels are far from the ones of other nearby European capitals, this creates one more topic to discuss around the dinner table. Spaniards like to complain but interestingly they are not too stressed about it- stressing out is nowhere close to the national hobbies.
In Helsinki I think the salary level is rather adapted to the cost of living, so most can have a comfortable life. Some things like transportation for example is priced really high for such a small city, however the infrastructure is excellent so you pay for what you get.
World famous education system in Finland, electronic government services, all parts systematic and organised of course gives much credit for the whole picture of Finnish standard of life. While in Spain it's a constant test of your patience when you need to visit some governmental institutions.
Finns are rather reserved and like to spend much time with families. It is not that usual to go out for drinks after work, while Spanish culture is built on lots of communication, many coffee breaks, after work drinks and late evenings out. Interesting fact – Spanish don't leave the office before the boss. If boss states till late, the team will hang around as well. How effective is that remains an open question.
What do you miss most from other countries or cities you have lived in before? Favorite city all times.
The truth is that when I moved to Spain I realized why Spaniards are not really big travellers. They have all what you may look for in their country! Wonderful beaches, grand cities, amazing nature, many heritage places- seems like there is something interesting to see in every village you pass by, incredible! So when living here I have all what I need. Family and friends that are left in Lithuania are the ones that I would like to transfer to Madrid if that would be possible.  Oh I quite miss the summer rain as well, never thought will tell this!  While I have lived almost my whole life in a country of rain it seems like it should be enough for a lifetime, but when there is not a single drop during the entire summer or longer, this is when I really start appreciating it and missing it a lot. As much as I love Spain and Madrid, I will always enjoy coming back to Amsterdam or Florence or Dubrovnik or San Francisco, it's hard to pick one.
In your opinion what is the best time to visit Madrid – or Helsinki?
Madrid is gorgeous in the spring time! The weather is already fantastic, but not too hot, it's still green while in the summer time the landscape tends to turn yellow from the burning sun.
Helsinki is completely different in winter and in summer so depends what you want to experience. Certainly when visiting during the wintertime you will get to see Finland as you probably have always imagined it- with tons of snow and frost on your eyelashes.
Anything else you feel you'd like to share with us about either city, your job or yourself?
I would like to encourage everybody to get yourself out of the comfort zone and choose a city where you feel cosy to be in and settle down there for some time. The experience is invaluable and nobody told that you necessarily got to live in the country where you have been born. The world is borderless. Take the leap of faith!
By the way, where do you think you like to live most of your life?
I wouldn't mind to spend several years in US before settling down however, Spain is already in my heart and will be there forever. I can see myself living here for a lifetime.
Vaida at LinkedIn: http://www.linkedin.com/in/vaidav
Vaida at Twitter: @vVaida