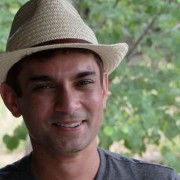 I wanted to interview Adnan Khaleel, as he is probably by far one of the most helpful Austinites we have met – he's always there when you need him. And he has been so crucial for EuroCircle Austin by inviting Europeans to join us, sharing local tips and so on.
Tell us about yourself – who are you and what would be the short story of your life?(where are you from, where did you study, how did you come to Austin etc)
Ny name is Adnan Khaleel. England is where I consider home. My dad had a job that required him to move around quite a bit, so growing up we lived in several different countries. I was born in the tiny island kingdom of Bahrain in the middle-east, and by the time I was 10, I had lived in at least a half dozen places in Asia and Africa. At that point my parents decided to end their kids' nomadic lifestyle and enrolled us in schools in the UK. So travelling the globe was instilled early in us and is still something I like to do wherever I can.
I've been in the US for about a decade now. Initially it was to work on a temporary project in Austin, Texas right after my undergrad. I had no idea where Austin was or what it would be like but I did think it would be something like the Wild West with cowboys. I know, ignorant! After I got here, I liked it so much that I decided that I wanted to stay longer. At that point, I enrolled in college and I received an M.S. from Texas A&M and more recently, an MBA from Univ. of Texas. I currently do business development for a technology firm called Cray Supercomputers. It's a pretty cool job. I get to travel a lot, meet really interesting customers and try to solve their data analytic problems.
What is THE thing about Austin captivates you the most?
Austin is a rare gem that you really have to experience by living here and it's really hard to describe why it's such a great place to tourists. It's the way of life in Austin that makes it so special. It's laidback, relaxed, friendly, lots of live music and outdoor activity and healthy living. Even though the rush hour traffic is bad, it's bearable. There aren't that many places to visit as far as tourist attractions go but that doesn't mean there is a shortage of things to do: like the multitude of restaurants, food-carts, bars and pubs, running and kayaking on Town Lake, cycling through the various beautiful and scenic routes around the city. Austin is really known for its live music scene and you can always find a venue for that. It's hard to keep track of the various events and activities that happen every day. Suffice it to say, we're spoiled for choices for things to do. What I find especially interesting is that Austin is in the cusp of developing into this major city and we're witnessing this transformation as it happens. That's exciting.
Do you think living in Austin has in any way enhanced your work experience?
I know it would be unfair to compare Austin to a major international city like London or NY but what I do miss is the multicultural diversity that those other cities offer. Austin is definitely getting there, especially now with the F1 track. SXSW is also shaping out to be a very international affair in some senses. The UK Trade and Industry consortium held a very successful breakfast meeting at SXSW interactive and I'm sure this trend is going to continue to grow as more people become aware of how great of a place it is. It's really nice to see Austin blossom in the time I've lived here and I think it's moving in a very international direction that's going to differentiate it from almost every other American city.
If someone asked you what I should NOT miss while in Austin, what would reply? And what I really SHOULD miss….
That could be a long list but some of the things are definitely the Night life downtown and the lakes (well they're actually rivers but for some reason they call them lakes). South Congress is a very interesting place on first Thursday with lots of people walking around and exploring the various shops and restaurants. During summer, the bats at Town Lake are quite a sight and I think they're best experienced in a boat rather than at Congress Bridge. I really like the UT campus and the UT Tower so no tour of Austin is complete with a visit to campus or the State Capitol in my opinion.
What do you do in Austin when you feel like you just want to chill out?
Austin is just perfect for that. There's any number of places that offer a great view of the city where you can kick back and enjoy a margarita or a glass of champagne and have a beautiful evening with friends. The terrace bar at the Stephen F Austin Intercontinental is one of my favourites. I really like being near the water so places like Hula Hut, Abel's on the Lake or Mozart coffee shop are where you'll find me just hanging out quite often.
Anything truly memorable that has happened to you since you have lived in Austin?
I've met some amazing people and made plenty of really good friendships that I'll always cherish, and as an adult that's always hard to find. That really is a testament to type of individuals that Austin attracts. As for bad, I'm not quite sure if I could specify anything particular … I'll just keep my fingers crossed on that one 
What really annoys you about Austin – or maybe nothing does?
I always forget how hot it can get during the summer and every year I relearn. Spring and Fall are so beautiful that you just forget the heat. The traffic isn't too bad and most of the time one can avoid it if you're organized and plan ahead. I really do wish however that Austin Bergstrom had more direct flights domestically and internationally. I travel quite a lot for work and flying through a major hub every time gets old rather quickly.
What do you miss most from your country…in addition to the family and friends?
My family and friends are obviously at the top of my list but I try to travel to Europe as frequently as I can. I do miss some of the cultural aspects that I've become so accustomed to, like an afternoon of cricket and tea, both of which are such revered English traditions. I do miss taking weekend trips to different countries around Europe and perhaps I'm most envious of my friends back home when they tell me of the various countries they will be visiting every month.
Do you have a favorite Austin/area restaurant? Why….what is the good and bad about restaurant culture in your opinion in Austin.
Austin has several up and coming restaurants and I'm always surprised to find new ones popping up all the time. One of my favourites is Wink. It's a very cosy, intimate setting and the food is prepared with a lot of attention to detail and incorporates delicate flavours. The staff is also very attentive and friendly. Another one of my favs is Justine's. It's run by Frenchmen and has a very unique bohemian atmosphere, something like what one would expect to find tucked away in the bowels of Paris. They throw amazing themed parties which really set them apart. It's a bit out of the way but it's well worth it. When I'm there, I always forget I'm still in Austin.
Austin has a very vibrant food-cart scene which is great because there are all these creative chefs around and it's easier to sample their fare without waiting for them to start a restaurant. I love sampling the various food carts all over downtown and south congress.
Austin is still growing up as a city and I think that culinary diversity is still lacking in some respects but with the influx of so many people from all over the country, it will be amazingly different and diverse in a few years.
Do you see there are benefits for someone from abroad to come to Austin for a few years?
Yes and No. In many respects Austin is a very safe place to start exploring the United States. You may not get the diversity that a larger city may offer but you don't have any of the downsides of living in a big city either. Coming from Europe especially, the thing that most people notice is the lack of an efficient public transportation system. I'm especially drawn to cities that have great educational institutes and that is another benefit of being in Austin is the close tie it has with the University of Texas at Austin. It's a distinguished world class institution, very diverse and open minded and in a large part, responsible for giving Austin its eclectic character.
What do you think about the cost of living in Europe vs Austin, TX – and the standard of life and life style?
I think it's amazingly more affordable to live here compared to a lot of places in Europe, especially London. I always have a bit of a sticker shock when I'm back in Europe. In addition, the quality of life is quite high too. Austin really promotes a healthy lifestyle in that there are so many outdoor activities that one can avail off so easily. The jogging track is within walking distance of downtown. Within a 10 minute drive, you can be in serene bucolic settings with fields and cattle and these are great places to explore on a bicycle. There are several ranches even within the city where one can go horseback riding as well. It's incredibly easy to keep physically active here since the city and its residents promote this sort of a lifestyle.
Anything else you feel you'd like to share with us about Austin or yourself?
I love it here but I still like the idea of being in Europe with my friends and family. When I first came to Austin, I wasn't quite sure how long I wanted to stay, and close to a decade later, I'm still undecided. There aren't very many places in America I would choose to live besides Austin and I don't think I'd want to leave anytime soon either. Even if I did choose to move back, I'm sure I'll always continue to come back and visit the wonderful friends I've made in this beautiful place.
Facebook: www.facebook.com/adnan.khaleel
LinkedIn: www.linkedin.com/pub/adnan-khaleel/0/b53/ba9/