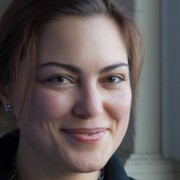 I am interviewing different interesting creative internationally minded people here in Philadelphia. This month you will meet Ana Vizcarra Rankin – let's find out what she says about herself.
Ana, Tell us more about yourself
'I am Ana Vizcarra de Rankin, a Uruguayan American visual artist living in Philadelphia. I have been in the US since 1989 and lived in Oklahoma and North Carolina before arriving in Philly. I am a painter and a sculptor; as a creative, I believe that my calling is to record what I see, while also imbuing it which the whimsy and wonder that I experience as I "make".
What inspires you?
Travel. So much of my work is about migration, pilgrimage and nomadism that anytime I'm on the road or the water or in the air I feel compelled to record those experiences. I have even perfected my watercolor "traveling studio" so that it is TSA approved. And my large map paintings fold down to carry-on size so I can take them with me on the plane or ship them in a pillowcase sized envelope.
What is your artwork about?
My artwork is about where I live; specifically, I use of maps oriented with the South at the top. This can be seen as a reference to the seminal image by Uruguayan constructivist painter Joaquin Torres Garcia, and also as an invitation to reconsider our relationship to the planet and its ecosystem; the possibility that an upside down world could perhaps be a better place. Some of my maps are celestial, dealing with ancient navigation methods that used the constellations as well as taking into consideration our future in space exploration.
What materials do you work with?
The large map paintings are aqueous media on unprimed, un-stretched canvas. I use watered down acrylics to dye the background, and then I start laying out the landmasses or star groupings in charcoal (depending on whether I'm doing a terrestrial or celestial map). After the initial layer, I use gesso to block out areas of interest, and acrylic washes to create more layers. Some maps have a dozen layers of gesso, acrylic and line work, which I do in charcoal, oil pastel and paint pens; I often cover up areas knowing that I'm going to sand them down later to unearth what was underneath. This way, each painting is a sort of archaeological dig, with bits of land or stars fading into the background or coming to the foreground based on the order they were painted and whether or not I have sanded down or scrubbed off recent layers to lend them importance or "push them back". My tools include palette knives, brushes, rollers, and an increasing number of sponges or various sizes and textures ranging from large and soft to thin scourers. I also paint small detailed oils on wood panel, which are popular with collectors wanting work for small spaces. I call these small paintings are star scapes; they look like tiny windows into space.
What challenges did you face when you first moved to the USA and how did you resolve them??
I was very, very lucky to be constantly surrounded by the arts and creative people during my early childhood in Uruguay. My uncle Oscar Garcia da Rosa is an artist and would babysit me before I started school; he put a crayon in my hand when I was just as likely to eat it as draw with it, and once I did start school, which is only 4 hours a day in Uruguay, I was sent to an after school art program at La Casa de la Cultura, where children are taught various music, visual and performing arts. I see that as the beginning of my art education. I learned charcoal drawing, watercolor, and egg tempera painting, while surrounded by kids learning to play instruments and dance.
The move from liberal, beach loving Uruguay to conservative land-locked Oklahoma was a huge shock for me. I was treated as an unwanted, uneducated foreigner (in spite of the fact that both my parents are university professors and I was in the top 10% of the school at mathematics, science, and even made it to the top five in the spelling bee (after speaking the language for less than a year). Once I made it to high school, I had a wonderful art teacher, Ms. Boren, who kept me sane during those hormone fueled years of culture shock and transition. I tried going to college for painting but ended up in architecture design instead – almost graduating in 1999, but running into financial issues due to my visa status etc. Almost ten years passed before I went back to school, but I kept making art the entire time, for a while even securing gallery representation.
When I did return to school in 2007, I received my BA in Art History summa cum laude from Tyler and then my MFA in studio art from PAFA, winning the Caldwell purchase prize for the Academy's permanent collection in 2012. I feel that my non-traditional approach to education and career has made it possible for me to maintain a high quality of life in spite of the ongoing struggle of making a living through art. I do what I love, which is priceless.
How has your life as an expat influenced your art?
You could say my entire oeuvre is based around the fact that I am and expatriate. Since I moved in my early teens, I feel that I am both Uruguayan and American, but also neither. This state of continuous liminality is actually one shared by many artists all over the world and makes it possible for my artwork to evince empathy in a growing number of people displaced due to changing job prospects, politics or simply a desire to see the world and meet the "other".
What have you learned from being an expat?
I have learned that home is where the paint is. One learns to relax into the constant feeling of transition and live in the moment instead of constantly pining for something that was, or hoping for something that may never be.
What's the best food discovery you've made as an expat?
Spicy food. I learned how to cook using only the smallest amounts of salt, pepper, garlic etc. so when all my American friends kept assuming I would like Mexican food (because everyone in South America eats Mexican, right?) I tried it. And fell in love. I eat the hottest stuff – not just Mexican but Thai, Vietnamese, you name it- if it's hot and spicy I will probably love it.
Ana's Website: www.avrankin.com
Company Name: AVRankin
Email: paintedfoot@gmail.com