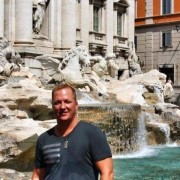 EuroCircle "Member of the Month" is back! This month meet polyglot KR Miller, who has been with us since our inception! Many thanks to Kirk for participating and for his years of 'cocktailing' with us!
Where are you from originally?
Green Bay, WI USA
How long have you been a EC member?
Since 2000!
What line of work are you in?
Enterprise IT and telecommunications sales.
What languages do you speak?
French, Portuguese, Spanish and English.
Favorite European destination and why?
Barcelona! When you find a good tapas place, sangria, the staff gets to know you, you speak fluent Spanish and the sun!!!
What's your favorite hangout in Chicago?
The Lakefront.
Travel plans for the summer?
Cape Cod and St. Petersburg Russia.
Favorite EC venue so far?
Vertigo Sky Lounge at the Dana
Madonna or Lady Gaga?
Easy, Madonna. Reminds me of when I was young and I admire her staying power. Je suis desolé Gaga.
Facebook: www.facebook.com/Kirk.I.am