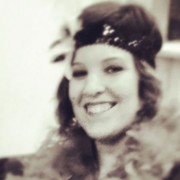 I got the privilege of interviewing Emilia Sixtensson – one of the leaders of International Swede (ISwede) in New York. International Swede has been around since 2002 and they are hosting the annual roof top summer party with EuroCircle in July 2013 (like last year).
What is International Swede?
International Swede is a collective for young, expat Swedes living in New York City and Los Angeles. We gather for sport events, live music, parties and Swedish holidays. We believe in a modern view of Sweden but enjoy some nostalgia from time to time (especially when it comes to music) and we are always welcoming of non-Swedes to share our culture and way-of-life with. We have a few big events every year, Midsummer being the biggest with up to 1000 people, where our members and their friends gather at a nightclub venue somewhere in Manhattan to celebrate the Swedish spirit and dance the night away. We also invite a famous Swedish Music Act from Sweden every year and that is always a highlight.
When and why did you start International Swede?
Thomas Noe founded ISwede in 2002. I joined in 2003. We were both lacking a place to meet other young Swedish people. There were plenty of organizations for the older crowd and the business community, but nothing on the social level. Thomas, who is also a DJ, also wanted an audience to play Swedish music for and that became a huge attraction at our events.
What is your role with the group?
I am more on the event organizing side and Thomas handles anything related to music and sports.
What challenges have your faced and what are your best accomplishments?
We aim for perfection at our events which is always a challenge when being forced to trust venues and suppliers, but we have learned a lot over the past 11 years and I am proud to say we are very close to achieving our goal.
What kind of events do you have and how often do you have them?
We have between 6 and 10 events per year of different sizes and themes.
Apart from our Swedish Midsummer Party and other similar dance events, we do a yearly traditional crawfish dinner where we gather 150 people on long-tables to eat, chat and sing schnaps songs.
We also organize locations for our community to watch Soccer/Ice hockey games and the Eurovision Song Contest. Whenever there is a famous Swedish DJ or band in town we are the first to announce it.
How many members do you have and where is your member base from?
We have 10,000+ members and most are Scandinavians living in the New York and LA area.
Is International Swede in any other US or International cities?
Only New York and Los Angeles for now.
When you aren't planning events what fun things do you like to do in New York City?
There are so much to do, but I like catching up with friends at house parties and dinners, grabbing a show or feeding my intellect with an interesting TEDx lecture or movie screening (accompanied by cocktails of course).
How is New York different than Sweden?
I've lived here for almost 50% of my life now, so I'm at a point where I remember only the good things about Sweden and idealize them, but I would say Sweden is more structured (in mindset and system) which could prove very helpful and efficient when playing by the "rules" but less so when trying to work/think outside the box.
When is the best time of year to visit Sweden and how often do you go and visit?
Summer! Summer! Summer! I don't go as often as I would like to for sure.
How long have you lived in New York?
Since 1996
Are you involved with any other groups in New York? If so which ones and for how long?
I like to follow all the European networks here in New York. EuroCircle, NL Borrels, Made in Italy, French Tuesdays, etc. I used to attend a lot 5-6 years back, but I've had to scale down. Too much partying. : )
How can people connect up with you?
You can follow us on Facebook page "Swedes in New York" and of course sign up on the website also www.iswede.com
International Swede – ISwede Website: www.iswede.com
Facebook: https://www.facebook.com/SwedesInNY
International Swede – ISwede Twitter http://twitter.com/iswede