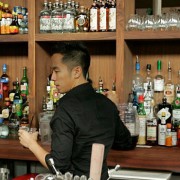 Cuchara will host a celebration of the life of one of Mexico's national heroes, Benito Juarez, on Thursday, March 21, from 7 to 10 pm. Happy Birthday, Mr. Presidente is the affable restaurant's fête to the inspirational leader who helped transform Mexico through reform and dedication to the common man.
To mark the occasion, Cuchara has teamed with talented musical artist DJ Sun, who will play Latin sounds and cuts from his latest album, One Hundred. The album shows DJ Sun's range as it traverses a range of influences in the artists' 20-plus years of making music. Join Cuchara and celebrate the evening with DJ Sun's signature dark rum cocktails alongside the restaurant's delicious comida corrida-inspired bites.
Cuchara will have a free appetizer for those Eurocircle members that:
1: Wear a fake mustache.
2: Wear a wig or
3: Hold a sign that says "I Love CUchara".
Join us!!!!