Get Together @ Local Pour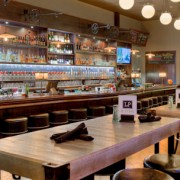 ***Escape the daily grind, come and drop in to Local Pour happy hours.
Let's mingle together at Local Pour and enjoy happy hours prices until 9 pm!
This place is a great example of a neighborhood gastropub typical of Boston or New York but that's becoming more and more common in Houston. The atmosphere is spacious, with an open kitchen and a massive bar, but still manages to feel inviting and cozy.
Please feel free to bring your international friends and encourage them to visit and become a EuroCircle member just like you!
Don't forget to RSVP.
Looking forward to visiting with you all again.
Shahla, Mary Beth, Venere and Juliana***