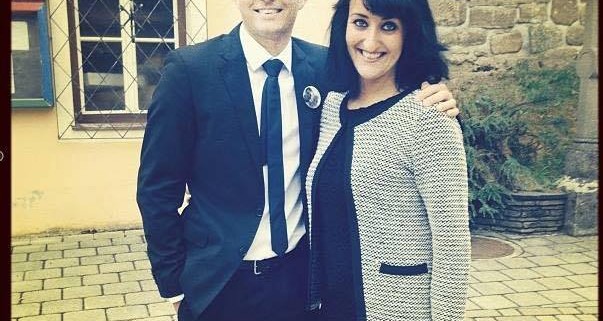 Florian and Romana Prelog – Creating the European haven @ the Prelogs (Austin)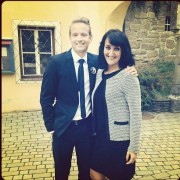 Since March 6th Austin, TX has had its first Austrian owned restaurant as far as I know. Prelog's is a contemporary, French fusion Kitchen and Bar that aims for European style impeccable service.
Please introduce yourself/ves.
My name is Florian Prelog, my wife is Romana P. Prelog. Both Romana and I both have been in the upscale fine dining/hotel industry since we were 15 years old. We love what we do.. we have been working in restaurants, hotels, ships (Seabourn is in a class by itself) and palaces. We always wanted to open up our own business to be able to share the love for the culinary arts and hospitality industry.
How did you end up in Austin, TX of all places?
When I visited my brother – who lives in Seattle – I met Brady, a friend of the Prelogs family who lives in Austin. When I cooked for him he told me that Austin needs an award-winning chef. I came to visit the city and promptly fell in love with the people, the flair and the food!
My brother and his family help us out wherever he can and supports our dream.
You have this new restaurant – how would you like to develop it or possibly open another one, like a café/bakery?
We have many ideas! We have also started working on further projects … but that is all we can say for now 😉
Do you see the differences between nationalities easily – Austrian vs. Americans?
You know 😉
What do you miss the most – and the least from Graz, Austria or Europe?
Our family and friends, the culture and the landscaping … but hey, Austin has a lot to offer!
What is your absolute favorites as far as food/drinks go in Austin?
We love Lenoir! Josephine house, Mulberry and Fabi & Rosi are great places for us! We love to go out for a nice dinner.
Workwise – how do you see Austrians being different from Americans – also culturally, what stands out in your chosen profession?
There is a BIG DIFFERENCE between Austrians and Americas regarding hospitality education and pride people take in their profession!
)When you think about what did you think about life in the USA before you moved there – did you have misconceptions that turned out to be wrong?
We never thought or planned on moving to the States. This past year was truly a year of learning and understanding the laws.It was very hard!
Knowing more about life and having lived with your decisions for a while – would you still choose to be there and why?
Yes because it is the right timing – and the right place to do what we love the most!
Your favorite food? I know to me Austrian food was a lot of meat, sausages, great and a bit heavy with fantastic pastries What do you want people to experience at your restaurant?
European flair, a little bit from everywhere with great taste and presentation where the diner feels the love for food.
How is the expatriate community there in Austin?
So far I have met many Germans, only a few Austrians. I hope all Europeans come to see us!
I am curious how the standard of living is in Austin in your opinion compared to Austria. Where else have you two lived and worked?
Short but sweet: In the USA you earn more…but the benefits in Austria are great! There is no place I have lived before where the benefits and the social security are as good as in Austria.
Romana and I lived and worked in Spain, Cayman Islands, Dubai, at sea (Romana), Scotland , Germany and at sea (myself).
Connect with Florian and Romana Prelogs:
PRELOGS
360 Nueces St & W 3rd St
Austin, Texas 78701
www.prelogs.com
Prelogs @ Facebook
"Sacher's savoury fare — from classic Tafelspitz to contemporary French fusion cuisine — is not to be missed. Ornate fin-de-siècle-style décor and princely service create an Old World setting that counterbalances the very modern dishes of the chef Florian Prelog, like pickled char with sweet apple ricotta and spicy horseradish." – New York Times (2013)
"The Café Sacher in Innsbruck shines in new splendor…. The chef and manager Florian Prelog, a graduate of the Institute of Tourism in Bad Gleichenberg, interned with some of the best chefs in the world and worked in numerous experiences abroad, including the luxury liner Queen Mary. Florian is a passionate chef and is now in charge of an eight- member team in "his" kitchen." – Falstaff (2011)
"Florian is a rare find in the culinary industry." – Johann Lafer, Michelin rated chef and German television cooking star (2013)
https://www.eurocircle.com/euro/wp-content/uploads/austin-member/2015/03/Prelogs.jpg
590
603
Kaisa Kokkonen
http://www.eurocircle.com/euro/wp-content/uploads/2014/06/eclogow1.png
Kaisa Kokkonen
2015-03-20 08:42:26
2022-01-10 21:41:38
Florian and Romana Prelog – Creating the European haven @ the Prelogs (Austin)