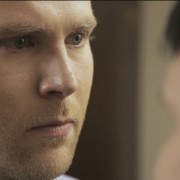 I decided to interview Roope as his career choice is a bit unusual – and how he came about it is also not the most typical story. Most actors I have start very early. He played guitar, sang in heavy-metal band, played ice hockey semi-professionally and studied in business school in Finland.
Who is Roope Olenius?
I'm an acting student at the New York Film Academy's Universal Studios campus. I've been studying towards my Bachelor of Fine Arts degree in States for the past three years, the first year in New York, the following two in Los Angeles.
At what age did you know that you wanted to be an actor?
It was one of those things that just happened. I was really into playing heavy metal music while I was studying business at the university of applied sciences in Tampere and I decided to attend this theatre course to gain more stage charisma. That weekend changed everything. The freedom of expression and the feeling of being connected to myself and the world around got me addicted. Year and a half later I was living in New York and studying acting on Broadway.(he is now 26 in 2013)
Is there any particular moment or an achievement throughout your career that you are particularly proud of?
I would say that the most exciting project on the road has been the short film Bro Code – Kaverille Kanssa, which me and my friends in Finland put together last winter. I wrote the screenplay on side of school here in LA and we had endless preproduction Skype calls with the director who was located in Finland. During Christmas break I flew home and we filmed the piece and everything worked out beautifully. I was amazed how well we had been able to take into consideration all the details concerning the production, even though, we were located on different continents. It was a good experience, because we not only learnt how possible technology has made things, but also how easy and cheap it is to produce your own film nowadays. It was also a really personal piece for me as the writer and actor, which made it an unforgettable project, since so many people were willing to participate and make the thing happen.
What would you say is the biggest misconception that people have about your profession?
That it's easy! It gets me boiling when somebody who watches films, or consumes art in any form, just for the sake of escaping his or her own life, says "I could do that, he's doing nothing." Acting or any other art form is not easy, even though it might sometimes seem like it. I think there's a big misconception going on nowadays, because the people who get the most attention in the industry are not artists or stars who have worked to achieve their fame. They're celebrities, who we have given the permission to entertain us, so that we could feel better about ourselves. They are not creating better change, in fact, they are an obstacle for growth, since they are not giving hope or pointing out real difficulties that we are facing. A real artist, who has dedicated time to the craft and is willing to reveal something very personal to other people, brings real human life on screen and therefore creates change in the viewer. That is everything but an easy task as it demands not only skills but great insight into life and the drive to change things. Unfortunately, we have allowed the celebrity driven industry to push art on the background, but I feel a big change is going to take place soon.
What do you enjoy most about being an actor vs. your previous life?
For me, once I made the career change from business to arts, acting was a way to reach out and find my own voice. It was a way to express myself emotionally and physically and to put everything I had learnt in the past into use. It made sense and wasn't a question about deciding whether I wanted to do it or not. I needed to do it and I still do, because it makes me feel whole. Nowadays, however, I've found other ways to express myself as well. I'm really drawn towards screenwriting and producing. Also, I still want to find a place in my life for music. So, I guess I should call myself an artist. I see all those things being parts of me and leading towards the bigger goal that I have. Therefore I don't want to label myself as being just this or that. In a way they're just different languages that I'm using to express myself in order to fulfill my purpose here.
What have you found to be the biggest difference between acting in Finland and United States?
The biggest difference is that in Finland the actors approach the craft with a very disciplined and physical way, whereas in States it's more about exploring the inner life and bringing the character alive by feeding your own emotions into the role that you are playing. Sometimes I think that the Finnish approach is a much healthier and liberating one, because it focuses so much on the body and we are beings that need to be physically expressive by nature. The challenge however is that it can lead to somewhat forceful pushing of emotions that the camera will not hide on the movie screen. Both approaches have their advantages and disadvantages, but they what they do have in common, is that they both lead into beautiful expression when mastered.
What kind of people survive and do well in this field of work in your opinion?
People who understand that it's a team game and that they're allowed to act on their impulses. Some people like to believe that it's only about being likable and about not giving others a reason to not like you. I don't think that's productive at all. I think you have to fight for the right to express yourself the way you want to in order to make good art. If you're pleasing everyone, you're doing something wrong. This doesn't however mean that you should not act politely towards other people and not respect their point of views. A good thing is that nowadays, you don't have to seek anyone's permission to make it, because technology has developed so much. If you have something to say, I think it's just best to be proactive and say it, because only then can you attract the like-minded towards your vision.
What advice would you give to other aspiring European actors aiming for the stars in Hollywood?
I don't know if I'm yet in a place wherefrom I can start giving advice for other people, since I'm only trying to figure it out for myself. What I can tell is that with the Scandinavian working mentality there's a lot to gain and one can really separate oneself from the mass of competitors by following through and really giving everything that one's got. We're reliable, motivated and hardworking, so there's no reason why we should let our bad self esteem limit us. There is great potential in all the Scandinavian people. Americans are great on doing the talking, but in the end it's what you bring on the table that speaks the loudest.
What and who captivate you in the world of the celebrities – and why?
I try to not follow the celebrity world too much as it doesn't really offer me information that I can use to my advantage and learn something from. I like to surround myself with great authors, speakers and people who have actually made it or are currently making their way to the top, as those are the people I want to work with. One of those people, who is making it now, is Joseph Gordon-Levitt. Even though, he's been around for a while now, he is working all the time and creating himself opportunities. That kind of pro-activeness is inspiring, since he is not seeking the industry's approval, but on contrary, changing it to better, for himself and other artists.
Nice and friendly people.
How is the Finnish community in Los Angeles? Do you see yourself returning home after graduating?
The Finnish community is surprisingly large and active here. I have no idea how many Finnish people we have overall, but within the monthly meetings and bigger events, the majority always consists of faces that I haven't met before, which is awesome. It's really hard to complain about the life, but to be honest, sometimes you miss home quite a lot. I don't really now what's going to happen after school and whether I'm going to stay here or not. I find that kind of liberating as I want to do something different with my life. I guess time will tell what happens. What I do know is that I want to have an international career in arts and travel a lot without sacrificing my cultural background.
What does the future hold for you?
Well, I just finished shooting my thesis film for the school, which I will now go into post-production with. Aside that and all the presentations and final exams before graduation, the school is not employing me too much. Therefore, I'm creating quite actively projects that I can start working on once I get out and hopefully supporting myself with. I'm writing a short film, which I will shoot in fall with the same crew that we made Bro Code – Kaverille Kanssa with. Also, I'm planning to travel to Australia to spend some time with my little brother, who is studying aviation there, because we haven't been able to spend too much time together within the past three years. I'm so happy to graduate and start the life outside of school finally. After being in school for almost the past 18 years without interruptions, where everything is graded and you're forced to follow certain ideas about life, it is so exciting to jump into the life where my decisions will have direct results and everything is possible. I guess, it's a sign that the school has done it's job, since my mindset has changed about this upcoming period of change within the past year quite radically. Without the skill set that I've acquired through my education and all the wonderful experiences here in States, I would probably not feel as confident about the future as I do now.
Website: www.roopeolenius.com
Connect with Roope Olenius at Facebook