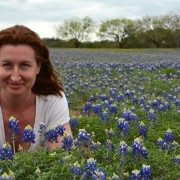 Unfortunately Nadiya missed our June 23 International Potluck with other groups as she was out of town – but once she got back I had asked her to email me to remind me that I need to write an article about her and her Ukrainian Group. And the readers who don't know it – Texas Hill Country (Austin area) is very famous for its wildflowers in March and April. This is a bluebell state – she is right in the middle of them in the above photo. Great shot!
Who is Nadiya Parsons?
I was born in Russia, but grew up in Ukraine. I live here with my family: my husband and 5 year old daughter. I have a step son, who also lives in Austin.
How long have you been living here? Did you live in any other countries as well….
I moved to Austin area in 2001. I did live in Poland before that and Ukraine, most of the time.
We have travelled with my husband around quite a bit and sometimes had opportunities to relocate, but always chose to stay in Austin. This feels like home now, especially after our family has grown. I was also lucky to visit other countries, like Turkey, India, Italy, Cayman Islands. Took some cruises from Galveston to Mexico, Jamaica. Love to travel. Wish I had more opportunity to do it more often.
If you feel comfortable tell us how old are you?
34. Thirties is my favorite time of my life so far  I feel complete, loved and happy.
How and when did you come up with the idea of living in Austin?
I didn't. My husband lived here at the time, so when we got married, I moved here. I guess I was following my heart, location didn't matter.
Was it difficult to get a visa or a work permit?
It's a long story, but yes. Just had to wait for a long time to get here. But to get a work permit didn't take long.
How do you make your living in Austin?
Currently I am working as a Russian linguist at a translation company in Austin. Enjoy what I do and people that surround me at work, very interesting international bunch, feels like home.
If you are an entrepreneur would love you share us some insights about that – or differences in working culture if you are not an entrepreneur!
I have never owned my own business. But as an employee of different companies in the past and present can tell you that of course I always felt the cultural difference in work environment. Nothing bad, just different.
I believe you run an ethnic group here in Austin, tell us more about it, please? (name, goals , what do you do, how we find you etc)
About a year ago I came up with an idea of organizing a Ukrainian group in Austin, because I didn't know of any similar existing groups at that time. I felt like there were enough Ukrainians here that could appreciate some of their own cultural gatherings. So, I created Austin Ukrainian Group, you can find us on Facebook. We are very informal, easy going people that occasionally get together to celebrate our traditional holidays and we always invite everyone to our events. Usually what we get is fun times with people of different background and cultures. Our goal is to remember our cultural traditions and share them with others. We also organize events together with Austin Polish Society, since our cultures are very close.
In addition to missing home and family – do you miss something else?
Yes, of course. I miss living in 4 distinct seasons during the year, seeing and feeling snow, changing fall colors, smell of certain trees and flowers in the spring, taste of fresh fruits, berries and vegetables from the home garden. Miss lots of walking, busy streets full of people, my favorite ice cream and very good beer.
What about housing, have you bought, or are you renting a home? What is the cost of living in your opinion in Austin (compare to your country)?
We own a house. Housing cost went up a lot in Ukraine in the past few years. Interest rates are too high for people to borrow for their home investments. Cost of leaving in general is going up.
What do you think about the locals?
Nice and friendly people.
Would be able to name some positive and negative aspects of living in Austin? (people, customs, attitude,religion, weather, healthcare, education, infrastructure like wife, internet, phones, cost of living, education, food, entertainment..what ever it is)
I think it changes with time. When I first moved here, my first impression was definitely different from now. When you live here for a while, you get used to a lot of things and it changes your attitude toward them. I like that Austin is cosmopolitan, very active, great music and keeps itself weird. I think it's a great place for family oriented people as well.
Do you have any tips for our readers about living in Austin?
Own a few swim suits, lots of mosquito repellent and watch out for snakes.
Would you recommend any of your favorite Web sites or blogs about Austin for our readers to check out?
I don't read any blogs. I usually just look for events at austin360.com or google what I need to find.
Anything else you would like to share about your current city or yourself – or anything else?
I like that we have EuroCircle here and lots of Europeans living in Austin. I feel a great support among us all and happy to be a part of this group.
I look forward to organize more events in the future and make more friends among us all.
Thank you for your interest in Austin Ukrainian Group and me.
Facebook Group Page: www.facebook.com/groups/143165912461752
Connect with Nadiya Parsons at Facebook