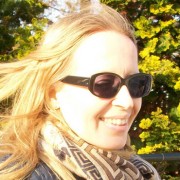 Meet longtime EuroCircle member Inka Juslin, one of our EuroCircle members in New York originally from Finland.
What are you working on at the moment?
I am currently preparing a book; it will be sometime this year a first draft of it. Then we will see what the editors like and consider as relevant. It is an exiting time for me, but at the same time I think how much contemporary commercialism is ruling what is going to be media-attractive, what will be eventually something that will engage the market. This book will be about my research-process on European avant-garde performance and art. Time period is roughly (not only) between the two World Wars.
How long have you been a Eurocircle member?
I think first time I got to know people from EuroCircle was 2008, and they actually were helping us to get great audience to our performance project Yellow at the Ukrainian Institute on America in New York back then.
How long have you been performing as a dancer?
I did my first real? group dance performance when I was 16. This took place as a site specific performance in Germany. From that on, I got more interested in dancing, as previously I had thought that playing piano in a conservatory was far more important for me.
How has the last year been for you?
It has been really busy. I have been doing couple of years this kind of balancing between dancing, performing and doing my research. Then I started my blog Firstindigo Journal, which suddenly became so popular. So I keep doing that as well, and people are interested in being interviewed. I noticed that blogging is also one way to present ideas that normally tend to be so academia-bound, or quite narrowly represented to specific audience. Now there is a wider readership for some of the writings and thoughts.
What does dancing mean to you?
It means a whole lot. Going back to the story, I saw French ballet company Ballet du Nord perform in Finland, when I was young, and got very inspired by what I saw. I was familiar with Debussy from the music world, and when I saw ballerinas interpreting his music (Afternoon of a Faun), I thought the music was even more amazing with the dance. In dance, the body expresses the musicality that is within me. I do not really care if I look pretty all the time when I dance. It is the emotion that takes the lead. In that sense performing is not so horrible at all as an experience, even when you have one thousand people watching you perform live. What you basically have is the fact that you have to trust yourself, and the authenticity, to really be present in that moment. That is the most important factor, technique is one thing, and authenticity is the other layer, which is as important.
What kind style of dancing do you practice?
I started with jazz, and jazz ?ballet? (Luigi, Mattox), then took usual Vaganova school, as Finnish ballet world had teachers who were educated in St. Petersburg. Then I studied with Jill Miller, who was doing her American ballet school in Finland, and learned form her a lot. I went to London to study at the Laban Centre, and there I encountered Martha Graham?s technique, I had a former company member as a teacher. I did Jose Limon and ballet too (English style) while in London. Finally, I went to study at the University of Hawaii, where I took Classical Indian Kuchipudi-technique. It was brilliant, as it was very formal too. It was kind of easy to adopt the second position in that, but the plie was just deeper, and you had to stay in that a lot longer. Kuchipudi taught me so much new kind of coordination, new level of musicality, and storytelling, which you sometimes find only in expressive mime in the west (I worked with American Adam Darius, who combined his expressive mime and dance, so learned this).
Who has inspired you either past or present?
My own grandmother is my greatest inspiration of all time. She was a wife of a remarkable man, believed in the arts as a major way of communication, and was always there as a coach. Adam Darius is a great inspiration, as I worked with him. He is an American who immigrated to Europe. Then, Martha Graham gives me goose pimps, in a good way. Although I never met her personally, but studied with her student. Jill Miller is an inspiration, she was a real New Yorker who came to live and work in Helsinki, and was really making an impact there at the local scene. I have huge respect for her memory. My mentor, NYU Professor and theater director Richard Schechner is a great continuous source of inspiration. He is a guru of Indian theater, and knows the avant-garde scenes, and knows the theory of this all..
Where are you currently based?
I'm now based in New York. I still truly think that Helsinki is my hometown. Where my future home will be, the answer is, I don't know.
What's it like being where you're from?
I like that question. It is not easy to answer. I think that Finland changed a lot when I was growing up. We went to schools where we got amazing education, I could study at the conservatory at the same time, and it was just wonderful time growing up, there was so much to learn about the world. I remember, though, learning very well that times were very different when our grandparents were growing up. It was the World Wars, and everything was scary, uncertain, and the history was so exiting, almost overwhelmingly so, learning that Finland had got its independence so recently. Finland is both Scandinavian country, and then it has a lot of Eastern European influence, as far as I experienced it growing up. I guess it also depends on your family how you experience it. We had quite international family.
What's the highlight of your career to date?
I might have several. One is creating my own premiere for the Museum of Contemporary Art Kiasma in Helsinki in 2002; I loved the new museum, its new theater stage, and the fact that dance and contemporary art (which I truly love) could encounter. Its always a feast, when I can combine architecture, art etc. with performance.
Another one, which I really love, was in 2009 in New York. We did a show at the historical Kitchen in New York with Melinda Ring's company. I started dancing with her in 2008. Melinda pushed me towards acting too, I had to learn to speak on stage, which was scary, but I eventually learned to love the production at the Kitchen. It was fun reactions from the audience, and the interaction with it gave me new directions.
What do you hope to achieve over the next 12 months?
I hope to make my book a more realistic project. I hope to start also new ideas and future plans, whatever the time frame to their realization will be. I hope to get new consulting gigs, speaking gigs, and share my knowledge and experience more to different audiences. I believe that being a dancer gives you lots of perspective about the social and the cultural life. And when I do my research, this double position gives me confidence to speak about many topics.!
What are you doing when you?re not performing? What (other) hobbies do you have?
I used to go to a lot of lectures to learn more about my research topic in New York, and I still go to seminars. I go to museums a lot, including art museums, history museums, galleries, design museums. I search for architectural landmarks, and I travel and go to nature. For me getting out of the city to nature is essential, even hiking. I used to ski in the winters, and eventually going back to that. I do different exercising program depending on the time of the year, time in general, and my mood.
What else should we know about you and your work?
I think one thing is the aspect of consulting, which I see myself doing more in the future. I have in the past been doing consulting/lecturing/speaking on different venues, starting with Universities, Art Schools, Tech Schools, with study groups, private clients, etc. Performing is of course one topic and what you can learn from that as a career, but I am also trained to talk about media, even advertising, about cultural differences, management, branding, and writing, to name a few. I am willing to do more gigs in the future, as my book will also get me more out there.
Where else can we find you? (Blog, website, twitter, facebook etc)
www.firstindigo.blogit.fi is my Firstindigo Journal that I mentioned. It has turned out to be an art journal. I am exited to see where it will develop in the future. I started also Lifestyle site: http://www.firstindigoandlifestyle.blogspot.com that to this date has been more of an introduction to people and lifestyles. I?m sure it can develop too. I am on Facebook as Inka/FirstindigoJournal ? you are so welcome to like it, as I am posting there interesting topics. On Twitter you can find me @inkadesignrosa. Additionally, I am on Academia.edu with my name, and on Linkedin.