Business & Pleasure Networking @ Danzarama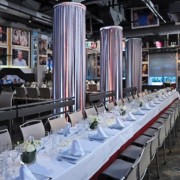 Come and mingle with other international professionals and entrepreneurs in an exclusive atmosphere. We have booked the downstairs Bar/Club in Danzarama entirely for ourselves from 8.00pm until midnight. The Club has a warm, homey ambiance, emphasised by low lighting, stone walls and arches, which give it the feel of a traditional bodega with a contemporary flair. Enjoy a fantastic selection of cocktails, accompanied by a tasteful selection of chill-out and lounge tracks in a unique and cosmopolitan setting right in the centre of Barcelona.
This is the perfect opportunity to meet potential customers, partners and investors, or just mingle with other professionals and entrepreneurs to exchange ideas and expand your network of friends. We will also have a 'Business Corner' where you can put your flyers on a table in order to promote your business among the other guests.
Feel free to spread the word among your contacts but don't be afraid to come alone because I will introduce you to other people.
Don't forget to bring your business cards and try to be punctual as doors will close at 11.00 pm.
Whether your reasons for networking are professional or personal, this is the event in Barcelona to meet the right people. You're guaranteed a fabulous time!
Sarah (email barcelona@eurocircle.com)