Casino Night at the Polo Tennis Club
Some of you probably met at the W party Anders Eriksson, the fellow European (Swede) who owns The Polo Tennis & Fitness Club.
Anders attended our very first EuroCircle event here in Austin at the Austonian in 2010. Anders wanted to extend an invitation to all EuroCircle members to attend their Davis Cup Classic that culminates at Casino Night July 29th hosted by Polo Tennis & Fitness Club.
Casino Night Party is $35 for non-Polo Club members.
However, Anders in kindly extending us the $25 discounted ticket price to fellow Europeans.
In addition, he is giving us access to the club pool & gym for Saturday July 29th. So could come out, work out, swim and freshen up for the evening.
The Polo Tennis and Fitness Club boasts an architecturally unique three level pool complete with its own rock waterfall. Situated above the courts next to the event center, the pool features a continuously circulating water filtration system which keeps the water cooler in the hot Texas sun.
Let's not forget you could also watch some great tennis.
HOW TO GET YOUR TICKET FOR SATURDAY NIGHT:
Call Anders and his team to attend – you MUST pay your ticket by July 27.
Telephone to get your ticket for the Casino Night: 512-829-4340 (have your credit card ready)
(Code – your original country of birth)
Dinner
Drinks
Silent Auction
Live Music
Dancing
Raffle
Blackjack
Roulette
Craps
Fun & Friends
Casino Night proceeds, if any, will benefit Helping Hands, Love Hope Strength, Crossroads, Dripping Springs Varsity Tennis Program
Now if you are a major tennis fan you might want to consider signing up also for a fun and friendly tennis competition.
2.5 to 4.5 singes & doubles division
$100 per player ($100 includes the above mentioned Casino Night for the player & a guest)
Wednesday, July 26th – cocktail party
Thursday & Friday, July 26th and July 27th – Evening matches
Saturday, July 29th – Day matches, awards & Casino Night Benefit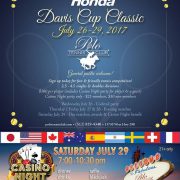 CLUB MEMBERSHIP