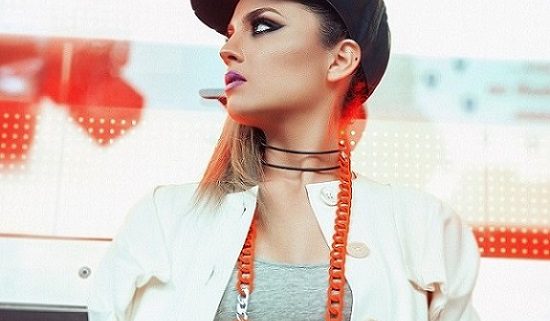 We are always looking for interesting Europeans to feature at our website.
Rising star, DJ/Producer Xenia Ghali is an extremely talented and versatile musician, artist and fashion icon who lives in both Greece and New York.
She is shaking up the music industry and most recently got her second #1 spot on the Billboard Charts for her amazing single "Places."
She is currently touring all over Greece (summer 2017).  Her energy is absolutely electrifying!!!
How did you get into your industry?
Music has been a part of my life since I was very young. I started playing classical piano and flute at the age of 5 and when I was 15 I picked up the guitar and the drums. While in high school, I formed a rock band and began songwriting. That was when I realized that writing music was my passion. I went to the UK to do a Bachelor's in Music Composition, Film Scoring and production and while I was there I began teaching myself how to spin House Music on turntables and vinyl records. One thing led to another and I had the honor of performing at the Ministry of Sound in London.
After I completed my Bachelor's, I continued my studies in Music Composition, Film Scoring and Production and moved to New York to pursue a Master's Degree. I took my first steps into the music industry as a music producer and a DJ in New York.
I love music and I grew up with many different influences. The music I tend to produce is melodic and generally more dance based – not a specific type or genre.
I was always infatuated by New York. There is something about the 'air' in New York. It inspires me. That's the reason why I ended up here in NYC.
What has been the biggest achievement/accomplishment in your career so far?
From my first big show at the Ministry of Sound, to signing to Pitbull's label and releasing my first single "Broken" to collaborating with Wycelf Jean on my single "Get Dirty" to independently releasing my singles "Under These Lights" and "Places" and reaching #1 on the Billboard Dance Club Songs Chart to headlining a festival attended by 100,000 people, I have had the honor of experiencing many significant things in my career so far. It would be very difficult to pick out just one moment.
I have worked extremely hard for everything so far and continue to work even harder in order to try to accomplish my next goals.
Next five years?? I hope I end up having released a lot more music, having collaborated with a lot more artists and of course touring!
If you want to get a tip to someone interested in breaking into the music business: Hard work, belief, commitment and a good team are the most important factors in succeeding!
As an example I have creatively directed all of my music videos striving to produce a result that is original and unique. My music videos are fashion oriented, intense and energetic. I try to make sure they are as visually appealing as possible.
If you could change anything about where you are now with your career, what would you?
I would just want a little more balance in my life. So more of a balance between my career and my personal life.
What is the best and worst about New York for you?
The best part of New York is how 'alive' it is. You can find anything and everything there and let the city take you on a journey.
The worst part of it is the traffic in the city!
How do you find the Big Apple lifestyle compared to your hometown?
I grew up in Athens where the lifestyle is much more laid back and easy going. In New York things can be overwhelmingly fast paced. In addition the weather in Athens is usually very balanced. During the winter it gets cold but not to an extreme point and during the summer it gets very warm however still manageable. New York has pretty extreme weather changes. In winter it usually is freezing (at least for me) and during summer it can get extremely hot and stuffy.
I can't really compare for example education and health care between the two cities as I have experienced them in very different ways.
The food in Greece is exceptional and it is my weak point, so I would have to say I prefer the food in Athens more.
Each city has it's pros and cons, it's just a matter of what you are looking for. I like New York right now because I am very focused on my career and my work. In the future, when I settle down, I don't know if I would be able to stay in New York. I have the feeling that I would prefer the lifestyle in Athens at that point in my life.
The worst social/cultural issue to deal with in New York City for me has been crime, aggression and racism.
What do you absolutely want your friends to see or feel in New York vs. Greece?
The 'hugeness' of New York. It makes you feel like the entire world is right there in front of you. It is a very inspirational feeling.
What do you miss most – and what should we all know and understand about Greece and its culture?
I definitely miss my family, my friends, the food and the people. I also miss the gorgeous beaches and the Greek Islands. I forgot to add my car!
I don't drive in New York, so I miss having my car!
Greece's history stems back to the ancient times. As such, Greek culture is very strong and is still very much alive. If anyone has the opportunity to visit Greece I always recommend that they do.
It is a truly beautiful country and you will experience things ranging from ancient sites to some of the world's most beautiful beaches.
What would be your ideal life – with no monetary issues to make it happen?
A balance between my career and my personal life! I still haven't figured that one out!
Thank you Xenia!
CONNECT WITH XENIA: