Cocktails & Conversation @ St. Regis Terrace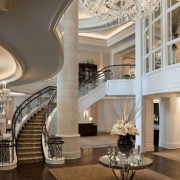 Hello everyone:
June is almost here and it's time again for our monthly get-together.
We will be meeting at the St Regis Hotel on June 2nd located in Buckhead (across from Whole Foods on Paces Ferry Rd.) Upon entering the lobby area, make a left towards the stairs and come up towards the bar / wine bar area. We will be meeting outside on the terrace.
Two full bars will be set up as well as waiter / waitress staff to take care of us. You are also welcome to purchase your drinks at the bar / wine bar if you prefer.
I have arranged for appetizers and valet parking is free. This venue is really nice so I am anticipating a big crowd – please do RSVP so I can give them a headcount at the hotel…
Look forward to seeing everyone soon!!!
Salutations –
David