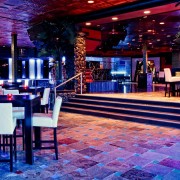 Greetings fellow Atlanta EuroCircle members;
Happy Wednesday everyone!!!
Our August get-together will take place next Wednesday, August 6th at the HAVANA CLUB, located at 3112 Piedmont Road NE (Buckhead). They are opening the venue especially for us as they are normally are closed on Wednesdays.
We will have $7 red & white wines as well as $5 beers all night long. They DO NOT have a kitchen, so no appetizers will be served that evening – for those relying on the typical free appetizers served at our events, please make alternate dinner plans before attending.
$5 valet parking will be available – otherwise off-site parking is available nearby. We will also have a DJ playing background music all night long…
Looking forward to seeing everyone next Wednesday!!!
Salutations,
Atlanta EuroCircle