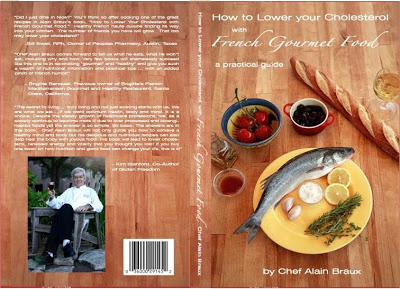 The size IS everything says French Chef Alain Braux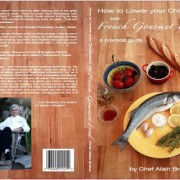 I am excited to share this interview with Chef Alain Braux. Alain was kind of enough to come to downtown to meet me at Alta Cafe since I can walk there easily from Rainey Street (I do NOT drive…I know, that's crazy in Austin). He grew up in southern France, Nice.  So of course I assumed he learned to cook at his parents' restaurant but that's not quite how life worked out for him.
Alain, did your mom teach you to cook?

No, actually my mother was not much of a cook even if she encouraged me to cook. After my parents divorced and money became tight, I had to drop out of school and went to work as my mother's salary was not enough for all of us to live on. I always liked baking so that was my way of helping her as much as I could. In my younger years, my grandmother Mamie had influenced my thinking towards food a lot – not so much the fancy skills but how to live on a tight budget and eat well. Eating well does not mean eating a lot – there is a difference.
My grandparents ran a small farm for the owner – and in return they paid no rent and to help put food on the table, she gardened, raised chickens, and rabbits..! She grew nearly anything we ate. And it was farm fresh, literally. She went to the garden, or sent us – the food was very fresh and tasty. I learned from her how to pick the best ingredients. The only thing I could not learn was to kill the chickens or the rabbits.
Where and how did you start in food business?

I started as a pastry apprentice at Auer in Nice, worked at different positions over the years all over France at different hotels, restaurants and bakeries, even in Belgium.
Then, while I was taking a professional class at the Lenôtre School near Paris, I was offered a pastry chef position at Dumas Pastry Shop in New York City. From New York City I worked my way up the ladder in Houston, Sarasota (FL) and Austin. Then, my French wife and I decided to open our own Amandine French Bakery and Cafe in Austin. We owned our business for over 10 years but had to close in 1997.
I realize you have written so far 5 books.  How did that start?

Upon closing our business I realized I was very interested in how food affects our health. I decided it would be interesting to combine my extensive knowledge as a French chef and my newly found passion for nutrition. So, I decided to study Macrobiotics and Holistic Nutrition. I eventually got a position as Executive Chef and Nutrition Therapist at People's Pharmacy.
About 5 years ago, I decided to share my own experience with high cholesterol. I wrote and self-published (on Amazon CreateSpace) my very first book: How to Lower Your Cholesterol with French Gourmet Food. This book is based on my knowledge of the Mediterranean diet. I caught the writing bug and have not stopped writing about food and health since.
I specialize in allergen-free food and desserts: gluten-free, dairy-free, and sugar-free. I help clients with weight loss, diabetes and other health issues with the Paleo diet. I can also work with vegetarians and vegan clients. Although I don't work at PeoplesRx anymore, I am available for private consultation to people with assorted food allergies and health issues.
I want to make clear that our readers understand you are an accomplished and well-versed professional so let's just list here some of your former jobs, ok?

Ok, well we talked about some of them already. Here are a few of the most notable:
Grand Hotel du Cap d'Antibes near Cannes, France
Moulin de Mougins, Mougins, France with chef Roger Verger
Wittamer, Bruxelles, Belgium
Lenotre, Paris, France
Hotel Negresco with chef Jacques Maximin, Nice, France
Dumas Pastry Shop, New York, NY
Delices La Cote Basque, New York, NY
Texas French Bread, Austin, TX
Amandine French Bakery, Austin, TX
How is it work in these great restaurants?

It is a lot of work, you learn a lot and in this industry but it is crucial to learn by doing it yourself. It can be very intense. You learn about superb quality, work very long hours, no weekends and Holidays and spend a lot of time on your feet. But it was necessary at the time for me to learn my skills as a pastry chef. My interest and love for food and nutrition came later.
By nature, I question everything (hmm…sounds like a few other French men I know) which does not always work well with famous chefs with large egos but ma passion helped me overcome these obstacles. As a perfectionist in my profession, I do it well or I don't do it.
I assume I like teaching since you like writing as usually these two skills go hand in hand?

Yes. I am very much an introvert but I love teaching people who want to learn the food trade. I can be demanding as a teacher but it's all for a good cause. If you were to see my house, my walls are lined by cookbooks and nutrition books – there are piles of them everywhere. I love reading and learning. There is always something new to learn all the time. I have taught at a few places in Austin, for example retail classes at Central Market and Whole Foods Markey as well as professional Pastry and Baking Arts at the Culinary Academy of Austin and Food as Medicine at the Natural Epicurean School of Culinary Arts.
Any advice for aspiring chefs?
I think I mentioned before that the best and in fact the ONLY way is on the job learning by doing. It's always best if you can work directly with the great chefs and learn your trade daily in a real working kitchen. There is no secret for success. It is not a reality show. Real life in the kitchen is hard, you work long and inconvenient hours – it is not for everyone and without the passion for food, you will not survive that world.
So how do you eat yourself?
Surprisingly, my daily diet is very simple. It is not how much you eat – what is most important is the ingredients' quality. I keep things simple but healthy. I eat a couple of eggs with cheese or bacon in the morning, a fresh fruit, and my special mocha (cocoa/coffee) drink with almond milk and a teaspoon of grass-fed butter. No refined sugar. Very little processed food. For lunch I usually have a nice organic mixed greens salad, with 4 ounces of fish (wild, never farmed) or grass-fed beef and a fresh fruit. Low carbs. My home-made salad dressing is also simple and healing. Extra virgin olive oil, apple cider, French mustard and sometimes miso. I also add sea salt and cayenne pepper. My dinner is light and smaller than lunch. I sleep better that way. A fruit, nuts and a square of dark chocolate. I like my food to be tasty so spices and herbs really count! And again, I make sure everything is of the best quality I can afford. Nowadays, my night treat is a rice/nut cracker (gluten free) with roquefort cheese. Sometimes I add a glass of red wine.
You are divorced. Is there a special lady in your life?
I am at very good terms with my ex-wife who is about to remarry. I have not found that special lady yet. Since I am a romantic Frenchman, I do miss having that special person in my life. However, I don't want to be thought of being someone's personal chef. Although food is my passion, cooking for me is work. That is why I keep things simple at home. I'd like to meet someone to share ma passions with food (of course), music, arts, travel and a simple but healthy life, "la belle vie en somme". I am an introverted and quiet guy and prefer to be with someone who shares my interest in a healthy lifestyle, does not smoke and is not a big drinker. For a Frenchman I must confess that I do not know much about wines. Although I do enjoy a glass of nice red wine once in a while, I am not a big drinker. I hope to find that special lady one day – unless she finds me first 
Do you have kids?
Yes, we have a son, Gilles. He is in his 30s and lives close by in Austin. He recently started his own business – a private chauffeuring and limousine service. He is very close to me – and contrary to me, he's totally a people person. You need to be in his line of work and he's very good at it.
How are the cooking lessons nowadays days for you?
Well, I teach at the Natural Epicurean Academy of culinary Arts – Lead Vegetarian Recipe & Menu Chef. Don't forget I am a classically trained French Chef. I am also a Certified Executive Pastry Chef with the American Culinary Federation and a Certified Master Baker with the Retail Bakers of America. I hold a Bachelor of Science degree in Holistic Nutrition and have studied macrobiotics, subsequently serving as a Macrobiotic Counselor. However, I eat meat. I avoid gluten, dairy and refined sugar – and all processed food. I'd happily teach some more but I hear even Whole Foods is shutting down their school and there are rumors about other local institutions shutting down their classes which is sad.
Anything you'd like all of us to learn from you?
Lesson 1: Size IS everything. I know everything is bigger in Texas but let's face it. Portion control is very important.
Lesson 2: No processed food, no refined sugar, no processed dairy (avoid industrial dairy loaded with growth hormones, antibiotics and genetically engineered grains). That means raw milk, yogurt, butter and cheese if you can handle dairy. If you are lactose intolerant, drink almond, coconut, soy (organic only), hazelnut, rice or hemp milk.
Lesson 3: Avoid grains and beans. They contain anti nutrients and can be inflammatory.
Lesson 4: Think quality, not quantity.
Lesson 5: Healthy food should be beautiful and tasty, not bland and boring.
Lesson 6: It is possible to eat well for about $10 a day – very well.
My professional motto is, A Votre Santé! – To Your Health!
Okkido, now I feel sufficiently unhealthy. Ugh…got to start eating right. I know for a fact that what Alain says makes sense. I have to really face the reality. Alain follows the paleo diet which is what my neighbors do..and they look very healthy.
How to connect with Alain Braux and get his books:
Chef Alain Braux @ Low Carb Magazine – Free PodCasts
Chef Alain's professional email!
Keep in mind, Chef Alain does private consulting for nutrition and cooking. If you'd like to arrange a healthy meal at home for your friends…ask him to take care of it.
https://www.eurocircle.com/euro/wp-content/uploads/austin-member/2015/03/Braux.jpg
289
400
Kaisa Kokkonen
http://www.eurocircle.com/euro/wp-content/uploads/2014/06/eclogow1.png
Kaisa Kokkonen
2015-03-25 08:49:18
2022-01-10 21:41:38
The size IS everything says French Chef Alain Braux